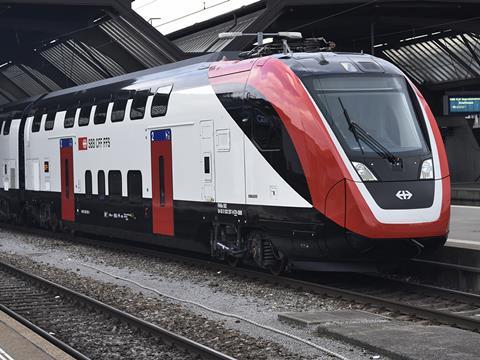 SWITZERLAND: Insisting that 'legal clarification is necessary', on July 16 Swiss Federal Railways lodged a formal challenge with the Federal Administrative Court against the decision to split the concession to operate long-distance passenger services.
According to SBB, the decision by the Federal Office of Transport to award two inter-regional routes to BLS from December 2019 'is a systemic change in transport policy with far-reaching consequences for Switzerland's proven public transport system'. Claiming that the legal basis for this change and the long-term effects on customers, cantons and the federal government were 'unclear', SBB said it had filed its complaint 'in order to create legal certainty'.
As well as questioning the legal basis for BAV's decision, the state-owned incumbent also suggested that the change in policy would not deliver any added value for customers. While insisting that it 'does not oppose competition', SBB argued that 'uniform national tariffs and the existing timetable concepts leave little room for real competition'.
'In the past, politicians have supported the idea of having multiple operators for regional rail services, but not for long-distance transport', it said. 'The allocation of long-distance routes to several operators must therefore be decided first by the legislature.'
SBB says that having a single long-distance concession has been 'a successful model for passengers, organising authorities and the federal government', resulting in a safe and punctual service and high levels of customer satisfaction. It argues that the long-distance network 'connects Switzerland', with profitable and unprofitable routes balancing each other within the overall concession. It insists that any profits from long-distance services are 'fully reinvested in the expansion of supply'.
To this end, it has recently spent SFr800m on new rolling stock and ordered more with a total value of SFr3bn to replace older trains 'step by step'. SBB also points out that it is currently spending around SFr300m on the modernisation of 341 double-deck coaches for long-distance services, and plans to invest SFr250m in the expansion of maintenance facilities to protect industrial jobs in Switzerland. It also returns more than SFr30m to customers each year through discounted tickets.
Despite the legal challenge, SBB says it will continue to prepare to operate the routes as awarded by BAV from December 2019.