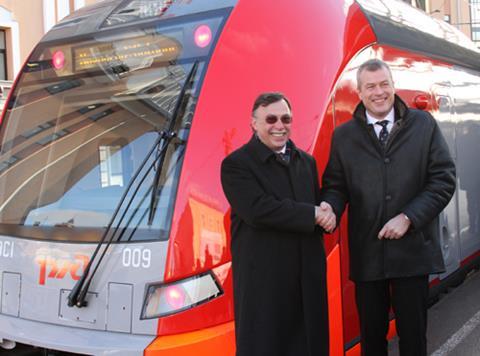 RUSSIA: Siemens Desiro RUS electric multiple-units began entering service on January 23, when the first fare-paying passenger from St Petersburg's Moscow station was presented with a commemorative certificate by Russian Railways.
Pairs of Lastochka EMUs are initially being deployed on the route from St Petersburg to Chudovo, where the train divides with one unit continuing to Novgorod-na-Volkhov and one to Bologoye. The new Siemens EMUs are due to enter service around Kazan and Sochi later this year.
Entry into service in St Petersburg is allowing Siemens to observe the effects of real-world winter conditions including different types of snow, building on tests which were undertaken using the Rail Tec Arsenal climate chamber in Wien where humidifiers and heating mats took the place of passengers.
Siemens has now delivered 18 of the initial batch of 38 five-car trainsets ordered in December 2009 at a cost of €430m. The Ural Locomotives joint venture with Sinara is expected to begin production of the second batch of 16 trainsets in Yekaterinburg by mid-2013.
'When RZD and Siemens commenced production of the Latochka series at the Siemens plant in Krefeld, Germany, in April 2011, we were aiming to put the new regional trains into service by autumn 2013, a very ambitious plan at that time, in our opinion', said Jochen Eickholt, CEO of Siemens Rail Systems. 'But we managed to ship the first trains sooner and to complete the testing and homologation phase considerably earlier than planned. This is why we are now able to commence revenue passenger service in January 2013.'