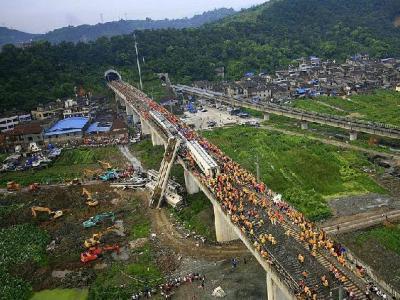 CHINA: 'Design flaws' in the signalling on the Ningbo – Wenzhou high speed line led to the fatal rear-end collision near Wenzhou on July 22, according to the recently-appointed head of the Shanghai Railway Bureau An Lusheng. The accident is now reported to have killed 39 people and injured 192.
Appearing on July 28 before the independent investigation panel established by the State Council, An said that 'having been struck by lightning, the signal system at Wenzhou South station failed to turn a green light to red'. On the same day, the Beijing National Railway Research & Design Institute of Signal & Communication issued an apology for the accident.
The findings of the investigation are expected to be released in September. Premier Wen Jiabao told official news agency Xinhua that the investigators would 'pay careful attention to public opinion and reach a responsible result'. Speaking during a visit to the crash site, Wen insisted that safety remained 'a top priority'. Those found responsible would be 'severely punished', as would 'those who hold responsibilities of leadership'. Three senior officials at the Shanghai Railway Bureau were dismissed immediately after the accident.
Opened on September 28 2009, the Yongtaiwen Railway between Ningbo and Wenzhou South is equipped with lineside signals overlaid with CTCS-2 to provide automatic train protection. This has a similar functionality to ETCS Level 1, using balises to provide intermittent updates to the on-train equipment. The line is designed for mixed traffic operation with a maximum speed of 250 km/h.
Although An's statement indicated a wrong-side failure, unofficial reports quoting railway insiders suggest that the signalling may have failed safe following the lightning strike, and that operations had been resumed using radio dispatching. There have also been suggestions that train D3115 between Hangzhou and Fuzhou was halted by activation of an emergency passenger alarm 23 min before the collision, but this information had not been relayed to the driver of the following Beijing – Fuzhou train D301.
The investigators are understood to have recovered some parts from the damaged vehicles, which had been broken up and buried beside the crash site within 48 h of the accident.
What happened at Wenzhou? Read the Editor's Blog in our Community section.