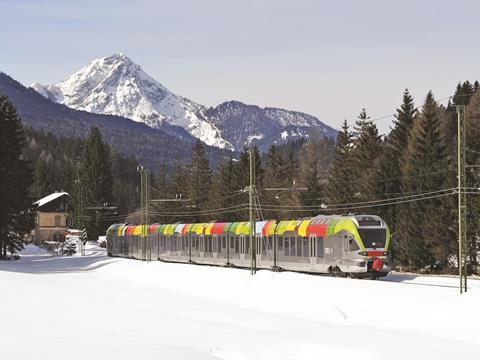 ITALY: The South Tirol government and Trenitalia signed a new contract for the operation of local passenger services on December 21, saying the new deal focused on quality, reliability and lower costs.
The decision to retain Trenitalia as the operator of the four routes when the previous contract expired was announced a year ago, with a transitional agreement in place until the contract was finalised. The new agreement runs until 2024, and will see the region pay €11 per train-km, compared to €12·50 under the current contract.
There are also higher requirements for performance, cleanliness, passenger information and accessibility, with performance-based bonuses and based on customer satisfaction surveys.
Trenitalia is to purchase seven additional Stadler Flirt electric multiple-units, which will be equipped for 3 kV DC operation in Italy and 15 kV 16·7 Hz in Austria as well as under the 25 kV 50 Hz electrification which is to be installed on the Venosta Valley line as part of a programme to increase capacity on the route.