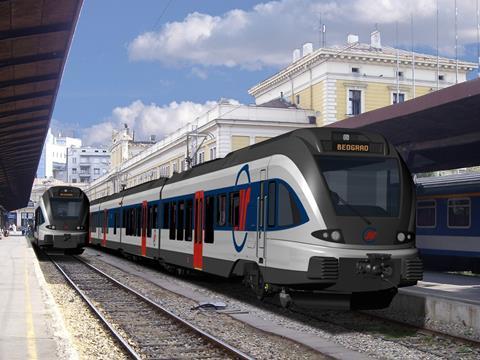 SERBIA: A contract for Stadler Rail to supply 21 Flirt electric multiple-units for use on Beograd suburban services was signed by national railway ŽS on March 4.
The €100m order is being funded by the European Bank for Reconstruction & Development. The first of the EMUs is scheduled for delivery in 'autumn 2014', the second 10 weeks later and the rest at two-week intervals through to late summer 2015.
Each of the air-conditioned four-car units will have 234 seats, including 12 in first class and 14 folding seats. ŽS has specified four doors per side, a multipurpose area for wheelchairs, prams or bicycles, an accessible toilet and passenger alarms allowing contact with the driver.
The maximum speed of the 25 kV 50 Hz trainsets will be 160 km/h, with more rapid acceleration than ŽS's existing fleet. The Flirts will have lightweight aluminium bodies, and they are expected to offer lower energy consumption and operating costs than the existing rolling stock.
Stadler says the EMUs will initially be fitted with Indusi train protection equipment, but provision is to be made for future installation of ETCS Level 2.