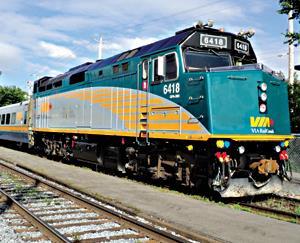 CANADA: As part of a programme to revitalise underused stations, the waiting room at La Pocatière station in Québec has been reopened through a partnership between VIA Rail and the municipality of Ste-Anne-De-La-Pocatière.
It has been equipped with a timed door-opening system synchronised with the timetable of the Montreal – Halifax Ocean service which calls at the station three times per week in each direction. This opens the station doors 1 h before the train arrives, and closes them 1 h after departure.
Further improvements under consideration include housing community services in the station.
'We are very pleased that the city has been so open to the idea of restoring this historic building', said VIA Rail President & CEO Yves Desjardins-Siciliano. Passengers 'can enjoy a warm and comfortable waiting room, while residents will be able to use it for other community activities', he said. 'We hope that this collaboration will serve as a model and inspire other Canadian communities with under-used stations.'