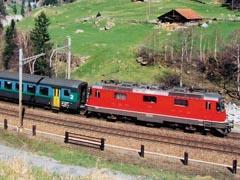 EUROPE: Swiss Federal Railways CEO Andreas Meyer and Deutsche Bahn Chairman Dr Rüdiger Grube signed a memorandum in Basel on July 9 committing to upgrade infrastructure, shorten journey times and introduce new trains to step up the quality of passenger services between the two countries from December 2014.
Building on the Rheinalp co-operation agreement launched in 2006, the two railways will set up a joint subsidiary to manage the business; SBB will own 60% of the new company, whose headquarters will be in Switzerland.
Upgrading and electrification on the Zürich – München corridor is set to cut timings by 40 min from 2016 to around 3 h 30 min, with the number of services 'almost doubled'; there are currently four return EuroCity trains a day.
Opening of the Gotthard base tunnel is expected to give a Stuttgart – Lugano timing of under 5 h in 2018, while infrastructure upgrades in southern Germany will trim 30 min off the current 3 h timing between Basel and Frankfurt by 2022.
A previous attempt to improve services between the two countries and Austria, branded as TEE Rail Alliance, was launched in 2000, but came to nothing.