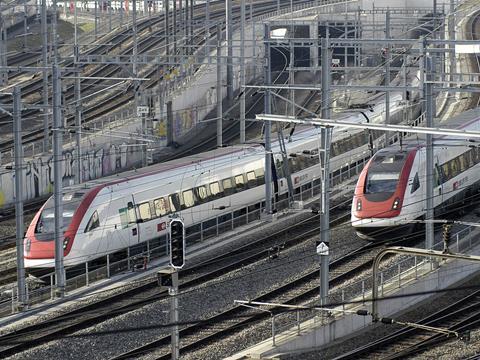 SWITZERLAND: The Federal Office for Transport announced on June 12 its final decision to split the concession to operate long-distance passenger services from the December 2019 timetable change.
Most routes and the whole of the inter-city network will be run by incumbent SBB, but BLS will operate Interregio services on the Bern – Biel and Bern – Burgdorf – Olten routes. However, 'to enable further development in the foreseeable future', the new concessions will be limited to 10 years, and BAV plans to review the legal process for awarding future concessions.
The final determination follows extensive consultation with regional authorities, train operators and other parties. SBB and 'around half of the cantons' had criticised the proposed split, the ministry reported, but BLS, the remaining cantons and 'the vast majority of other transport companies' had supported the decision.
BAV said the introduction of multiple operators to the long-distance market had 'already led to clear improvements for passengers and taxpayers'. These included proposals for a direct service between Chur and Bern and the retention of long-distance trains over the Gotthard Pass route, both which will be operated by Südostbahn under an agreement with SBB. 'Contrary to the original plans', the Gotthard service will now operate without financial support. Long-distance trains will replace regional services on the Chur – St Gallen and Bern – Neuchâtel – La-Chaux-de-Fonds routes. Other improvements include more frequent regular-interval services, more customer-facing staff on trains and an expanded catering provision.
In the light of the consultation responses, BAV has increased the marginal contribution which SBB must pay to run the long-distance services by only 0·5%, which is less than planned. At the same time, the contribution margin for the 'basic' network has been set 'seven percentage points lower than proposed'. These changes would lessen the impact on the operator's profitability, with SBB's earnings expected to be around SFr50m a year higher as a result. Nevertheless, the ministry says the 'moderate' introduction of multiple operators will reduce the overall cost to taxpayers by SFr75m a year.