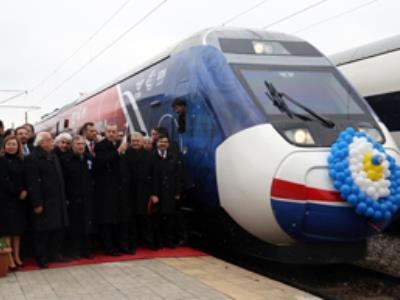 TURKEY: A direct high speed service linking Eskisehir and Konya was officially inaugurated by Prime Minister Recep Tayyip Erdogan on March 23, accompanied by Transport Minister Binali Yıldırım and TCDD Director General Süleyman Karaman.
Introduction of the direct service follows the completion of a 5 km west-to-south connecting curve linking the Eskisehir – Ankara and Ankara – Konya high speed lines near Polatlı. Journey time for the 355 km trip is 2 h, compared with 8 h using the existing line via Afyon and Alayunt or 5½ h by bus. TCDD is initially operating two direct trains in each direction per day, and says more will be introduced after additional high speed trainsets have been procured.
The Prime Minister said he hoped to see the start of high speed services between Eskisehir and Istanbul before the end of this year, following the inauguration of the Marmaray tunnel to coincide with the republic's 90th anniversary celebrations on October 29.
In a few more years, he continued, Sivas, Yozgat, Kırıkkale, Afyon, Usak, Manisa, Izmir and Bursa would be linked to the high speed network, which would connect 14 provinces. Beyond that high speed lines would be built south from Konya to Karaman, Mersin, Adana, Osmaniye and Gaziantep. 'We're going to serve all these cities, and I hope it will not be long until the high speed train reaches Gaziantep', he said.
Yıldırım added that after almost half a century of neglect, railway investment had reached 'record levels' in the last decade, with a total spend of YTL 26bn. This had seen an average of 137 km of new line added to the network each year, lifting the total from 9 700 km to almost 11 :000. Another 3 700 km was under construction or planned, and much of the existing network was being totally renewed, he said.