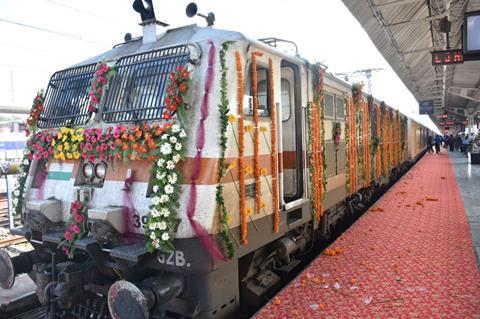 INDIA: The first step towards opening up the provision of inter-city passenger services on the IR network began on October 4, with the launch at Lucknow Junction of a new Tejas Express service by the Chief Minister of Uttar Pradesh Yogi Adityanath.
Operating over the 500 km route between Lucknow and New Delhi six days a week, the Tejas Express is managed and marketed by Indian Railway Catering & Tourism Corp, with IR providing traction under a haulage agreement. A second train linking Mumbai Central and Ahmedabad is due to start running in December.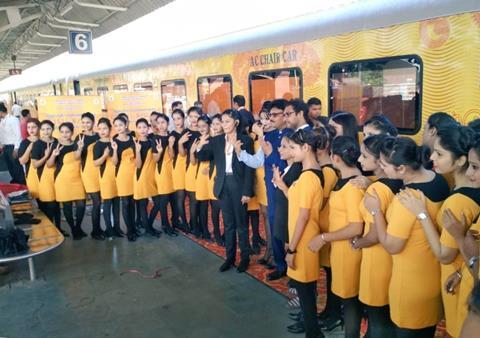 Proof of concept
The Ministry of Railways has been tasked with introducing 'private passenger train operators to provide world-class services' under the government's latest 100-day action plan. Railway Minister Piyush Goyal told the Lok Sabha that private trains would be operated on a PPP basis, with IR retaining responsibility for the infrastructure and providing traction to the new operators. Launch of the two Tejas Express services by the railway's quasi-autonomous catering subsidiary is intended to prove the concept before bids are invited next year for private operators to run on selected corridors.
MoR says the private operators would be expected to provide additional services rather than taking over existing IR trains. It has shortlisted 50 potential routes from an initial 150 proposals for closer examination by the zonal railways to confirm the feasibility of introducing extra services. According to IR Chairman Vinod Kumar Yadav, completion of the two Dedicated Freight Corridors by December 2021 is expected to release capacity on the existing Mumbai – Delhi and Delhi – Kolkata main lines for more passenger services.
Leased rolling stock
IRCTC has leased two rakes of air-conditioned LHB coaches to operate itsTejas Express services, and will be responsible for managing ticket booking and on-train catering.
The company has been permitted to run 12-car trains, compared to IR's standard 18-car formations, but will be able to lengthen them if business increases. Each train initially provides one 56-seat Executive Class coach and nine 78-seat Chair Cars, as well as baggage and generator vehicles. The company will pay leasing charges of Rs70m a year for each 12-car rake, plus haulage charges of Rs677 per train-km, including track access, and a daily charge of Rs146 000; these variable charges would rise proportionately for 18-car trains.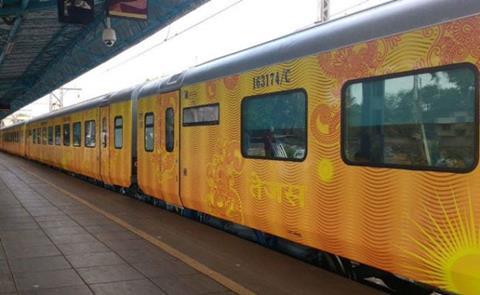 Dynamic pricing
The independent operator is free to set its own fares, and is expected to trial yield-managed dynamic pricing. It will also offer compensation for late arrivals; against base fares of Rs2 300 in Executive Class and Rs1 200 for Chair Car, the compensation has been set at Rs100 for a delay of more than 1 h and Rs250 for more than 2 h. IRTC is initially operating a shorter booking window, with tickets available 60 days in advance, compared with the standard 120 days for IR trains.
With revenue services starting on October 5, the Tejas Express takes 6 h 15 min to cover the 500 km, with two intermediate stops at Kanpur and Ghaziabad. The train leaves Lucknow at 06.10, arriving in New Delhi at 12.25. The return trip departs at 16.30 and reaches Luknow at 22.45. Services operate every day except Tuesdays, allowing time for maintenance.
The private trains are expected to tap into a growing market for faster and more comfortable premium services, as exemplified by IR's 160 km/h Vande Bharat Express EMU launched on the Delhi – Varanasi route in February. Following the delivery of another EMU, IR was able to introduce a second Vande Bharat Express on October 3, serving the 615 km route between New Delhi and Katra which carries passengers to the Vaishno Devi shrine.