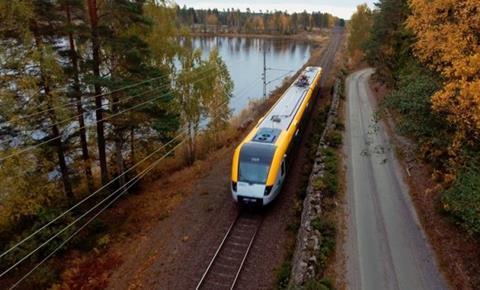 SWEDEN: State operator SJ has been selected for a passenger train operating contract, while the Vy Tåg subsidiary of Norwegian state operator Vy has won two others.
Värmland regional transport authority Värmlandstrafik has selected Vy as preferred bidder to operate regional passenger services on the Fryksdalsbanan (Torsby – Karlstad) and Värmlandsbanan (Charlottenberg – Kristinehamn) routes for nine years from December 13 2020, with an option to extend the contract by a further year.
The services will be operated using eight Regina X50 EMUs and five two-car Itino Y31 DMUs.
'We have been serving Värmland since 2009, and are both happy and grateful for the continued trust', said Vy Tåg CEO Dag Lokrantz-Bernitz. 'The contract is an important part of Vy Tåg's strategy to grow in the Swedish market.'
'We are approaching a period of major infrastructure changes', said Per Sidetun, the region's head of rail transport, adding that the operating contract included a number of improvements that would 'have a positive impact on our travellers.'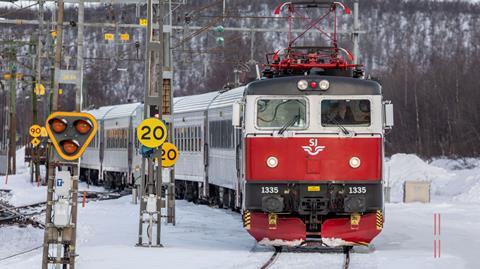 On February 10 national transport agency Trafikverket announced that it had selected SJ to continue to operate the daily Stockholm – Östersund – Duved overnight service for four years from December 13 2020, with the possibility of an extension for up to two years. The operator will provide and maintain its own rolling stock.
'It is very satisfying that we can continue with the successful night trains to and from Jämtland', said SJ Business Manager Jan Kyrk. 'We have started upgrading our sleeping cars to further increase comfort during the trip.'
SJ is due to take over services between Storlien and Trondheim in Norway this year, and said it would explore opportunities to develop connections between Norway and Sweden.
Trafikverket has selected Vy Tåg to operate the overnight trains between Stockholm, Luleå and Narvik for the same period. The two night trains from Stockholm and the daily connection between Luleå and Narvik are currently operated by SJ and carry more than 500 000 passengers a year. The new operator will lease vehicles from Traffikverket.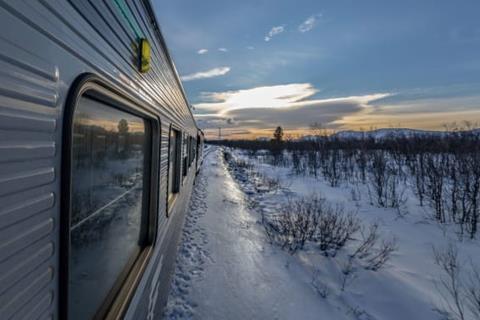 'We are convinced that we can do a good job of further developing traffic' said Vy Tåg's Lokrantz-Bernitz, adding that it was an exciting route serving large parts of Sweden. Vy Tåg aims to grow both business and leisure traffic on the route, building on its experience of its working with the tourism sector as part of the Norrland regional train operating contract.
The route was also significant as the first which the company operated when it was formed in 1999 under the Tågkompaniet brand with the aim of winning night train contracts. Vy Tåg has now grown to have sales of SKr700m, 550 employees, the Värmlandstrafik, X-trafik, Norrtåg and Krösatågen operating contracts, services operated on its own account between Karlstad and Oslo, and Oslo – Göteborg services operated in co-operation with its parent company Vy.
'Our strategy is to maintain traffic and grow in the Swedish market', said Lokrantz-Bernitz. 'Five days ago we were told that we can keep the Värmland contract for nine years. Today we win the night train contract. It is no coincidence, it is many years of quality work that is now paying dividends'.
However, the change of operator is likely to see the end of night trains from Göteborg to the north. At present SJ runs both the Jämtland and Norrland sleepers beyond Stockholm, and the national operator had made representations to Traffikverket that this should continue. According to Kyrk, splitting of the responsibility for the two routes means that it will no longer be operationally practical to continue serving Göteborg after December 2020.