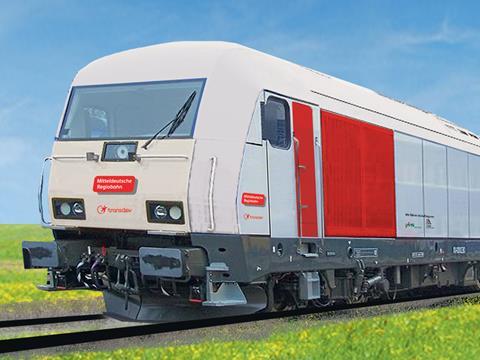 GERMANY: The Mittelsachsen and Leipzig transport authorities have selected Transdev subsidiary Mitteldeutsche Regiobahn to operate Leipzig – Geithain – Chemnitz passenger service E7 (currently RE6) from December 13 2015.
The contract covers the operation of hourly services totalling around 1 million train-km/year. It runs until at least December 2023, with the possibility of continuing to December 2025, depending on the final timescale for proposed electrification and upgrading of the route which would reduce journey times from 1 h to 50 min.
The transport authorities said the new contract was awarded on the basis of both price and quality. They will pay less than under the current contract with DB Regio, while various improvements for passengers have been agreed.
The services are to be operated with five-car sets of push-pull coaches and Siemens ER20 diesel locomotives. The authorities say this will offer greater passenger comfort than the current Class 612 tilting DMUs, with more space for luggage and bicycles, and more toilets including an accessible toilet. DB tickets will be accepted, including season tickets and railcards. All trains will have a conductor, and tickets will be sold onboard. Existing trade union agreements will continue.
MRB currently operates Leipzig – Geithain and Halle (Saale) – Eilenburg services in the region.