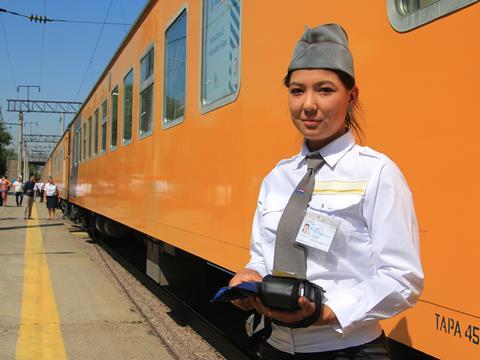 KAZAKHSTAN: Private company Turan Express has begun operating local passenger services from Kapshagai and Uzynagash to Almaty on behalf of the city authority.
Following the failure of two privately funded attempts to introduce services on Almaty – Kapshagai corridor, the local authority decided to call tenders for the operation of a subsidised service in the hope it would reduce car travel, with an estimated 200 000 cars now entering Almaty from surrounding settlements every day. The five-year contract is worth 354m tenge for the period from the launch on August 16 until the end of the year, and 3·4bn tenge in 2018-21.
Turan Express is operating two trains each way per day on each route. The 72 km route from Kapshagai to Almaty-1 is operated using a six-car DR1A diesel multiple-unit, with a journey time of around 1½h, while the 74 km from Kazbek-bek (Uzynagash) to Almaty-2 is operated using a locomotive and nine coaches with a journey time of around 2 h. The flat fare of 80 tenge can be paid onboard the trains using Onay payment cards.