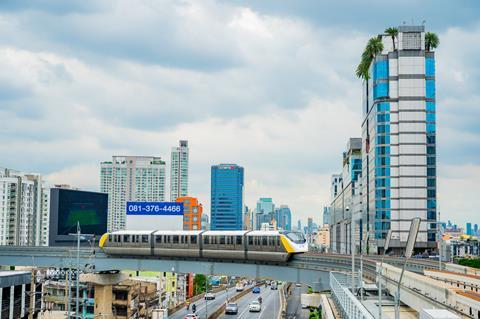 THAILAND: The opening of the full length of the MRT Yellow Line monorail running 30·4 km from Lat Phrao to Samrong in the east of Bangkok with 23 stations was marked with a visit by Prime Minister Prayut Chan-o-cha on June 19.
Limited preview trips had been offered since June 3, and travel is free until at least July 3.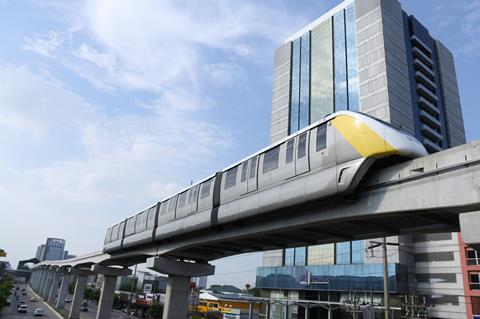 The Yellow Line has been developed under 30-year PPP concession awarded in 2016 to the BSR joint venture of BTS Group Holdings, Sino-Thai Engineering & Construction and Ratchaburi Electricity Generation Holding, operating as Eastern Bangkok Monorail Co.
The joint venture's Northern Bangkok Monorail Co is also developing the 34·5 km Pink Line linking Khai Rai and Minburi in the north of the city under a similar concession.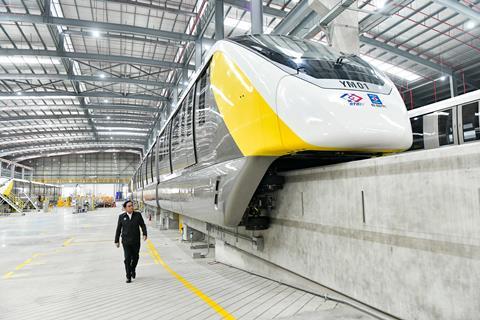 In 2017 Eastern Bangkok Monorail Co awarded Bombardier Transportation — now Alstom — a 50bn baht contract to supply Innovia straddle monorail trains and control systems supporting GoA4 unattended driverless operation for the two lines.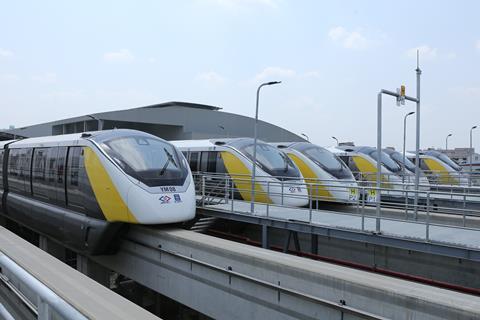 The Yellow Line has a fleet of 30 four-car Innovia 300 vehicles with a maximum speed of 80 km/h. These were developed from a Canadian design by Bombardier's Bangkok Engineering Centre, and manufactured by the CRRC Puzhen Alstom Transportation Systems join venture in China; a further 42 four-car sets are being supplied for the Pink Line.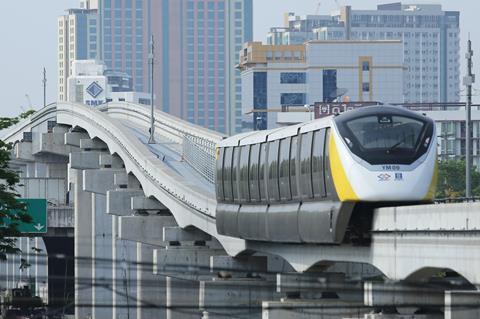 Alstom also supplied the Cityflo 650 train control system, telecoms, power supplies, conductor rail, track, platform screen doors and depot equipment.
Alstom also has a €245m 20-year contract to maintain the systems it has supplied, with 170 staff supporting the Yellow and Pink lines.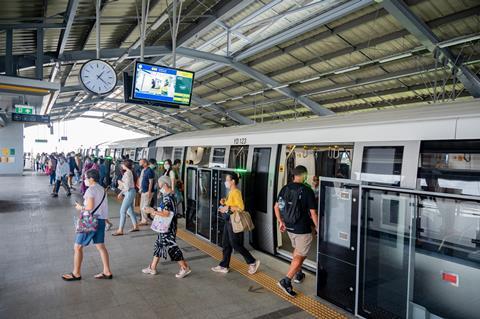 'The inauguration of Bangkok's Yellow Line is another step in transforming urban mobility in the densely populated capital and will provide passengers with a comfortable, safe and efficient journey, cutting journey times by a third', said Toby Tiberghien, Alstom's Managing Director for East Asia.