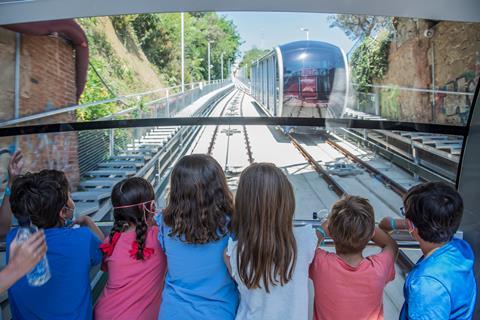 SPAIN: The funicular which has linked Barcelona's Plaça del Doctor Andreu with the amusement park on Monte Tibidabo since 1901 has reopened following a €18·3m modernisation. It is hoped that the project will help to reduce private car movements on the roads to Monte Tibidabo by 5%.
The funicular, which climbs 272 m in 1 124 m, is now branded Cuca de Llum (Firefly). Two new cars have been supplied by the Leitner Ropeways Sigma factory in Veyrins, and these have a capacity of 252 passengers, 132 more than their predecessors. The maximum speed has been raised from 4 m/sec to 10 m/sec, reducing the end-to-end journey time from seven to three minutes. Touchscreens show videos of the history of the line and the amusement park.
The funicular starts at the terminus of the 1·3 km Tramvia Blau tram line, but its heritage tram services were suspended at the end of January 2018 for a €11m programme of track and infrastructure renewals and vehicle refurbishment. However, it was only in late March this year that consultancy Tec-Cuatro was awarded a €562 190 contract to plan the work.