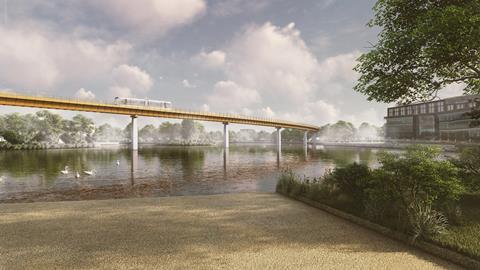 UK: HS2 Ltd has begun procurement of an automated peoplemover to link the future High Speed 2 Interchange station in Solihull with the National Exhibition Centre, the existing Birmingham International station and the airport.
Procurement has begun with the APM Systems contract, which has two elements.
The first element covers design, supply, integration, installation, testing and commissioning of the APM transport systems and has an estimated capital cost of £65m.
The second element covers up to 25 years of operation and maintenance, with five-yearly break options, with an estimated value of £205m at 3Q 2024 prices.
Shortlisted companies will be invited to tender early next year, with both elements to be awarded to the most economically advantageous tenderer towards the end of 2024.
Procurement for the separate APM Infrastructure contract worth up to £150m at 4Q 2026 prices will start later this year, with invitations to tender in 2025 and contract award in 2026.
The APM would run on a 2·2 km viaduct 6 to 14 m high and crossing the NEC, West Coast Main Line and M42 motorway. A capacity of up to 2 100 passengers/direction/h is planned, with a 6 min journey time. It is to completed in time for the start of services at the HS2 Interchange station, now expected to be between 2029 and 2033.
HS2 Ltd Chief Executive Mark Thurston told a parliamentary committee in May that when the high speed line opens, a limited shuttle of around three trains per hour is envisaged between Old Oak Common in west London and Birmingham.
'The APM is a vital piece of infrastructure in the HS2 project, connecting high speed rail passengers to the classic rail network, and supporting the shift from car use to public mass transit', said HS2 Ltd's Procurement & Supply Chain Director Andrew Cubitt on July 11.