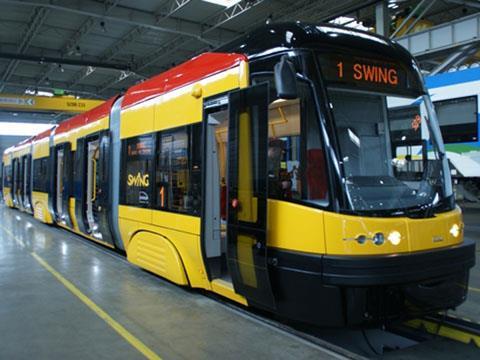 POLAND: On May 12 Pesa Bydgoszcz presented the first Swing Type 120Na 100% low-floor tram for Tramwaje Warszawskie's standard gauge network. The vehicle will be shipped to Warszawa at the end of May to start trial running.

The five-section tram is 30·1 m long and 2 350 mm wide with 40 seats and space for 161 standees at 5/m2. To provide more standing room, the seating configuration is 1+1, instead of 2+1 on the earlier Type 120N. Other improvements include shorter second and fourth modules for better weight distribution; the axle arrangement is Bo'2'Bo'. The vehicle is powered by four 105 kW asynchronous motors, and has a maximum speed of 70 km/h.

In May 2009 TW awarded PESA Bydgoszcz a 1·5bn zloty order to supply 186 low-floor trams, to be delivered by the end of 2013. The contract is part of the operator's 3·2bn zloty programme to replace part of its aging fleet, modernise 29 km of track and refurbish tram stops.

Pesa is also supplying 35 Swing cars to ZKM Gdansk and expects to sign a contract shortly to supply six to Tramwaje Szczeciskie. Another nine Swing cars will be delivered to the Hungarian city of Szeged in 2011-12, under the manufacturer's first tram export order signed in October 2009.