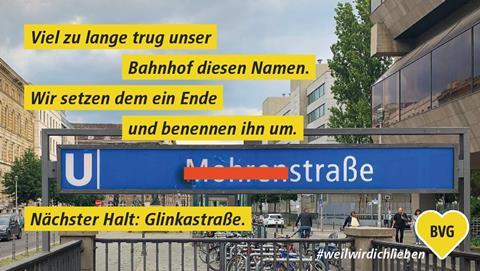 GERMANY: Berlin city transport operator BVG intends to rename Mohrenstrasse station on U-Bahn Line U2 'out of understanding and respect' for the 'sometimes controversial' debate about the name of the eponymous road, which uses an archaic term for people from North Africa.
'As a cosmopolitan company and one of the largest employers in the capital, BVG rejects all forms of racism or other discrimination', the operator explained on July 3, adding that it was contact with other authorities to discuss when the renaming could be implemented.
The station east of Potsdamer Platz on U-Bahn Line 2 was opened in 1908. It was known until 1950 as Kaiserhof after a nearby hotel which was destroyed by bombing in 1943. Reflecting changes to local street names, it was then called Thälmannplatz (1950-86) after a former leader of the Communist Party of Germany and Otto-Grotewohl-Strasse (1986-91) after a Prime Minister of East Germany, before becoming Mohrenstrasse following reunification. The road name Mohrenstrasse was first recorded in the early 18th century, but its origins are said to be unclear.
The station will now be renamed Glinkastrasse, after an adjacent street which commemorates the Russian composer Mikhail Ivanovich Glinka (1804-57).