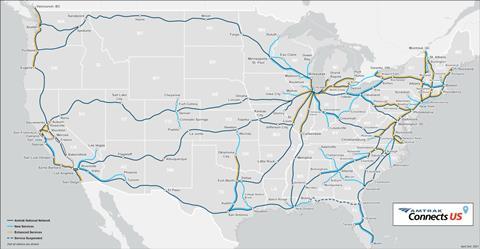 USA: Amtrak has challenged policymakers to support its expansion plans by strengthening the enforcement of regulatory rules giving passenger trains priority when running on tracks owned by the freight railroads.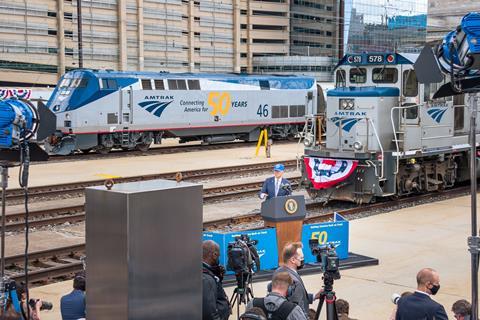 On May 27, Amtrak set out a landmark plan for a major expansion of inter-city passenger services across the USA under what it termed a 'Corridor Vision'. This would deliver more frequent, reliable and sustainable inter-city service to over 160 more communities and 20 million more passengers annually by 2035, the national passenger operator said.
Amtrak published its vision with an accompanying letter to Congress authored by CEO Bill Flynn, which set out the steps it believes policymakers need to take to support the proposed growth. A key element of this is a strengthened regulatory approach on routes where Amtrak runs over host railroads' tracks. The letter outlined two main areas where Amtrak feels action is needed — preventing the delay of passenger trains, and ensuring fair access to host railroads with which to increase services.
'Since 1973, freight railroads have been required by law to provide Amtrak with preference over freight. However, many freight railroads ignore the law because Amtrak is unable to enforce it, and as a result, people suffer. Amtrak must be able to enforce its existing right to preference so that passengers can arrive on time', Flynn's letter stated.
'An essential condition of the deal that created Amtrak and relieved freight railroads of the obligation to provide passenger service was fair access to all rail lines for existing and additional Amtrak trains. Unfortunately, too often host railroads resist and stall any efforts to expand service. The law must be clarified to stop private interests from preventing the passenger rail growth that people and communities need', Flynn added.
In its report, Amtrak said it favours 'reaching negotiated agreements with host railroads for expansion, the presence of significant federal funding for needed capital improvements and an effective, fast dispute resolution mechanism at the Surface Transportation Board should help the parties reach agreements. If not, STB can quickly determine required investments so implementation can proceed.'
Expansion plan
Amtrak's vision includes 39 potential new routes and more services and other enhancements on 25 existing routes, 'creating the potential to expand or improve rail service for 20 million additional passengers each year'.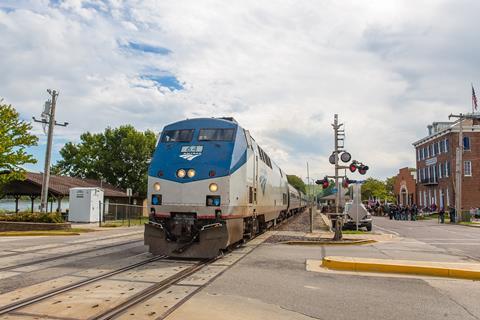 It calls for improved service in major cities currently underserved by rail like Houston, Atlanta and Cincinnati, while Las Vegas, Nashville, Columbus, Phoenix, and Wichita are among the larger cities which could see passenger trains restored.
The economic benefit of the Corridor Vision is expected to reach $8bn per annum by 2035, with an additional $195bn in economic activity estimated to accrue from the improvements generated by additional capital investment during the 2021-35 period. Amtrak expects to create 26 000 permanent jobs in the process.
To achieve its vision, Amtrak has proposed that the federal government invest $75bn over the 15 year timeframe, which would 'develop and expand inter-city passenger rail corridors around the nation in collaboration with our existing and new state partners'.
Amtrak has asked Congress to create a Corridor Development Programme which would be dedicated to expanding and improving its network outside the Northeast region. Amtrak would use the federal funds to 'cover the initial costs of getting these corridor routes up and running, before asking states to support them in line with federal law'.
'The American people have waited long enough for a sustainable, world-class inter-city passenger rail network. Congress could pass legislation today to start making Amtrak's vision a reality: create a Corridor Development Programme, pass the Intercity Passenger Rail Trust Fund Act and Rail Passenger Fairness Act, and clarify the law to ensure fair access to host railroads for Amtrak growth', emphasised Flynn.