LEVEL CROSSINGS: The second International Level Crossing Awareness Day on June 9 is intended to raise public awareness, explains Isabelle Fonverne, Projects Officer, Safety & Interoperability at the International Union of Railways.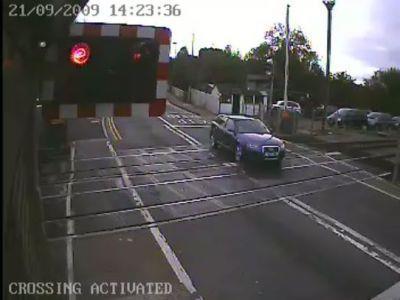 Amongst the biggest safety risks faced by the operational railway on a daily basis are those imported onto the network by third parties. And of these perhaps the greatest is to be found at the road/rail interface. Despite enormous efforts by the railway community to reduce the level of risk, there are still too many people dying or being injured in level crossing accidents.
Although most accidents are caused by the road users (both vehicle users and pedestrians) either misunderstanding the risks and/or misusing the facilities, in most countries level crossing accidents are seen as a 'railway problem'. Whilst in many cases the railways are the victims of such events, we cannot sit idly by and tolerate the problem. But equally it is not something that the rail sector can resolve on its own. We need help from a range of partners, especially from organisations in the road sector.
Whilst engineering out the risk through grade separation or road closures is one option, this can be expensive. Experience has shown that a more practical and sustainable option is education. This does not just mean the actual level crossing users but should include all those in positions of influence and responsibility for roads.
Reaching such a diverse audience is not easy, but some radical thinking saw UIC launch its first level crossing awareness campaign in 2009. This European event was a great success, with around 25 countries taking part. Encouraged by the enthusiasm of the European Commission's Road Safety team and a challenge from the United Nations Economic Commision for Europe to go global, ILCAD was born in 2010 with more than 40 countries getting involved.
Using the motto 'act safely at level crossings', ILCAD is a collection of national events focusing on raising road users' awareness of level crossings risks and encouraging them to change their behaviour. It is a collaborative effort, bringing together road and rail sectors, law enforcement and safety authorities, government agencies, educational organisations, UN and European institutions and the press.
Local campaigns may adopt different angles within the ILCAD banner; some staying low key whilst others favour a huge campaign with simulated crashes to attract media interest. Typically, railway and road authority staff distribute leaflets at crossings, police use speed cameras to boost enforcement, and 'goodies' are distributed to road users, pedestrians and schoolchildren.
Last year the European Commission financed the making of the 'Just in Time' video campaign, to which individual partners could add their own message. This video was used on all kinds of media from websites to station advertising screens. Over 500 articles were published, and in some countries the topic of level crossing safety even reached prime time news on television and radio. That's building awareness.
For a campaign with few people and almost no financial resources, ILCAD has been a great success, thanks to the goodwill of all our partners. Our challenge now is to sustain the message for more than one day, and keep people's attention throughout the year.
The 2011 campaign promises to be bigger than ever, and we are delighted to welcome some new participants. Almost all of Europe, Israel, the whole American continent, South Africa, India, Australia and New Zealand will be taking part.
Some of last year's partners have developed the concept on a larger scale. For example, Operation Lifesaver Inc has a bigger budget and a bigger support team to campaign across all US states in co-operation with the AAR. Operation Lifesaver Canada will have also a higher budget, thanks to the Canadian railroads. In Argentina, ALAF and Operación Salvavidas will show the Just in Time video in public areas, including giant screens in the streets. And in South Africa, our partner Railways Africa will be working with Transnet Freight Rail, Prasa and the Rail Safety Regulator.
Our arsenal of communications includes the website www.ilcad.org, plus pages on Facebook and YouTube, tags and posters with the ILCAD logo and motto in different languages, and the Just in Time video, as well as all the publicity material being prepared by individual partners.