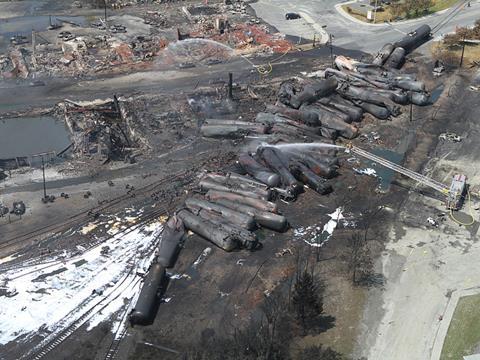 CANADA: On April 23 Minister of Transport Lisa Raitt announced the federal government's response to the initial recommendations arising from Transportation Safety Board of Canada's ongoing investigation into the July 2013 Lac-Mégantic derailment.
With immediate effect, Transport Canada will:
ban DOT-111 tank cars which do not have continuous bottom reinforcement from carrying dangerous goods, although they can be repurposed to transport non-dangerous goods. This affects around 5 000 cars in North America;

require DOT-111 tank cars used to transport crude oil and ethanol that do not meet the standards published in January 2014 to be phased out or refitted within three years. New wagons are already being built to these standards and 55 000 have been ordered, representing nearly half of the current DOT-111 fleet used to transport flammable liquids;
require Emergency Response Assistance Plans for all trains with one or more wagons carrying crude oil, petrol, diesel, aviation fuel and ethanol;
create a task force bringing together municipalities, first responders, railways and shippers to strengthen emergency response capacity;
require railways to comply with revised operating practices, including reducing the speed of trains carrying dangerous goods to below 80 km/h.
Transport Canada is to formalise updated standards for DOT-111 cars this summer, and is working with stakeholders including the US regulatory agencies and industry to determine what additional requirements may be needed.
The Railway Association of Canada said it supported the new rules and would work with Transport Canada and other stakeholders to ensure compliance. The announcement was also supported by wagon manufacturer The Greenbrier Companies, with CEO William A Furman saying it would offer 'greater regulatory certainly on tank car standards'.
Canadian Pacific welcomed the rules regarding DOT-111 cars, but expressed 'disappointment' with 'incomplete actions' addressing human factors. 'While we will comply with all the orders, I must again reiterate that reducing train speeds does not address the causes of railway accidents, nor is it a solution to rail safety', said CP Chief Executive E Hunter Harrison. 'Human behaviours are a significant factor and should be the focus if the goal is to truly improve safety.'
CP said it would like regulatory changes to support the use of 'inward facing cameras in locomotives to allow for compliance monitoring' and a programme to reduce level crossing accidents.