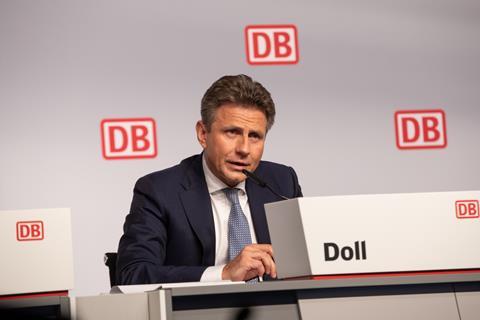 GERMANY: Deutsche Bahn has announced that Alexander Doll, Board Member for Finance, Freight Traffic & Logistics, will leave the business on December 31. Doll's departure was agreed on November 18 at an extraordinary meeting of the Supervisory Board. A new chief financial officer has yet to be nominated, but the freight and logistics portfolio has been handed to CEO of Berliner Verkehrsbetriebe Dr Sigrid Nikutta, who had previously spent 15 years at DB, many of them at posts within DB Cargo.
In recent weeks the German coalition government has sought to talk up its various commitments to the rail sector as a contribution to the fight against climate change, promising that around €156bn ― some of which will come from DB's own resources ― will be channelled into the rail business by 2030. However, opposition parties are concerned that DB may not be spending federal money wisely, as suggested by the Federal Audit Office in September, and Transport Minister Andreas Scheuer was called before the Transport Committee on November 15 to explain why DB appeared to be heading once more into a deep financial crisis.
Doll was appointed Board Member for Freight & Logistics in November 2017 and added the railway's finances to his portfolio in January 2019. During his tenure the planned sale of DB's Arriva subsidiary has been high up the agenda, the aim being to secure €3∙5bn to €4bn to help shore up a funding gap ― by June 30 DB had already exceeded this year's debt limit of €20bn by €1∙5bn.
In the event it turns out that Arriva's pension liabilities in the UK, valued at more than €400m, had discouraged bidders. Although more than 10 organisations had originally expressed interest, media reports suggest that only private equity firm Carlyle remained as a bidder, and it was offering just €2·5bn.
That Arriva's true financial position had not been obvious at an earlier stage in the proceedings seems to have been one of several elements in a power struggle at the helm of DB. Doll's departure may satisfy politicians looking for a scapegoat, but it is unlikely to steady DB's rocky finances or improve its disappointing day-to-day performance.