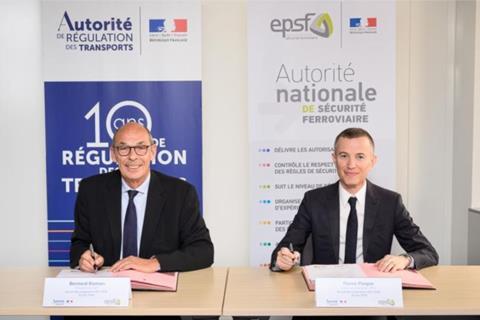 FRANCE: National transport regulator ART and rail safety authority EPSF have agreed to strengthen their co-operation in preparation for opening up of the domestic rail market to competition, the two organisations announced on July 7.
An agreement signed by ART President Bernard Roman and EPSF Acting Director General Pierre Pimpie on June 30 establishes a formal framework for exchanges between the two bodies, in line with the requirements of the amended Directive 2012/34/EU. The aim is to facilitate close interaction, while guaranteeing their independence and respecting confidentiality.
Although the two bodies had been working in a 'collaboration of trust' over the past decade, the agreement formalises previous good practice, they explained, noting that this was also 'in line with the wishes of national legislators'.
ART was originally established in 2010 as an independent rail regulator, Autorité de Régulation des Activités Ferroviaires, becoming ARAFER in October 2015 when its powers were extended to cover coach transport and motorways. It was rebranded as ART in October 2019 when the regulation of airport charges was added. The regulator's powers were further expanded from the end of 2019 under the Loi d'Orientation des Mobilités, which gave it oversight of transport data and ticketing, as well as responsibility for regulating the infrastructure management activities of RATP in Île-de-France.
Suggesting that their complementary expertise was 'a decisive asset in guaranteeing all users an efficient and safe rail service', ART and EPSF said regulatory co-operation would be one of the factors required to enable a successful opening of the domestic rail market to competition. This would be 'under fair and non-discriminatory conditions', in line with European transport policy and the emerging Single European Railway Area, they added.
The two bodies have agreed to exchange views on issues 'which could harm rail competition or compromise safety'. If one party makes a recommendation, the other has agreed to review it before taking any decision, and will feed back the reasons should its final ruling diverge from the recommendations.