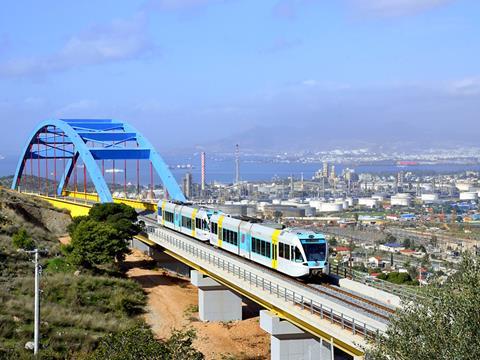 GREECE: The share purchase agreement for Italian state railway group Ferrovie dello Stato Italiane to buy 100% of Greek national passenger and freight train operator Trainose was signed on January 18.
Privatisation agency Hellenic Republic Asset Development Fund had named FS as preferred bidder on July 14 2016. Russian Railways and infrastructure and mining group Gek Terna had expressed interest, but FS submitted the only binding offer.
The agreement has now been approved by the Court of Auditors. Completion of the transaction is still subject to EU approval, which FS expects to receive within weeks, and the pending closure of a European Commission state aid investigation into debts of more than €700m that Trainose owes to national railway OSE.
Thanking everyone who had co-operated with the four-year sale process, HRADF Chief Executive Anthony Leousis said FS was 'making an important commitment to strengthen and develop Trainose with its expertise and experience, creating a major provider of railway services'.
Trainose carried 16 million passengers in 2015, with revenues of €130m and a net profit of €2·7m reflecting its 'positive economic results' since 2013. It has 670 employees, leases around 1 100 vehicles and operates almost 300 trains a day.
FS Chief Executive Renato Mazzoncini said the acquisition of Trainose was 'an opportunity for growth and improvement both for FS Italiane which carries on its international development, and for the Greek railways which will be able to take advantage of FS's know how and experience'. He said the transaction was 'perfectly in line' with the 2017-26 strategy which envisages a quadrupling of non-Italian business to more than €4bn in 2026.
The agreement was signed a week after an agreement was reached for FS to buy National Express Group's c2c business in the UK. Mazzoncini said FS was 'proud of these successes which open the way for further achievements'.