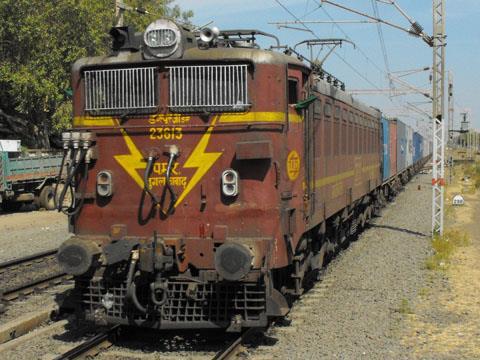 INDIA: Presenting the Indian Railways budget for 2011-12 to Parliament on February 25, Minister of Railways Mamata Banerjee warned that IR was facing a 'testing time', citing a significant jump in fuel costs, and wage increases imposed following a review by the Pay Commission. With 1·4 million employees and 1·2 million pensioners, the increases are expected to add Rs730bn to IR's expenditure over the current five-year period.
Nevertheless, Banejee expects IR to achieve an operating ratio of 92·1% for the current financial year which ends on March 31, with gross receipts of Rs971bn, expenditures of Rs881bn and interest payments to the state of Rs49bn leaving a surplus of Rs41bn.
Although freight traffic levels are running below budget at 924 million tonnes rather than 944 and 612 billion tonne-km instead of 623 billion, this is not reflected in the financial results. Freight revenues for the year are now projected to reach Rs625bn, a 6·8% increase over 2009-10. Passenger traffic levels remain on target, with passenger earnings for the year expected to be up by 11·2% at Rs261bn.
For 2011-12, IR has budgeted for a 7% increase in freight traffic to 993 million tonnes, and a 6·4% increase in passenger earnings. Banerjee says total receipts should reach Rs1 062bn, giving an improved operating ratio of 91·1%.
In terms of capital spending, the minister announced IR's 'highest ever plan investment', totalling Rs576·3bn in 2011-12. This will cover the acquisition of 18 000 wagons, construction of 1 000 km of new lines, 867 km of double-tracking and 1 017 km of gauge conversion.
Nevertheless, the budget reveals that IR has been eroding its Depreciation Reserve Fund for asset replacement, drawing down funding for capital expenditure and development faster than it is appropriating funds. Whereas IR allocated Rs70bn for depreciation in 2008-09, this fell to Rs45bn the following year and Rs57bn in 2010-11; Rs70bn has been budgeted for 2011-12.
Our correspondent also reports little evidence of any long-term strategy to streamline the rail sector or to restructure IR, to cut costs and rationalise tariffs, or to engender the confidence needed to encourage private investment. Instead of increasing lower-class fares, where IR is currently losing around Rs200bn a year, the minister continues to demand increased service levels which add to the financial burdens and erode the capacity needed to handle profitable freight business.