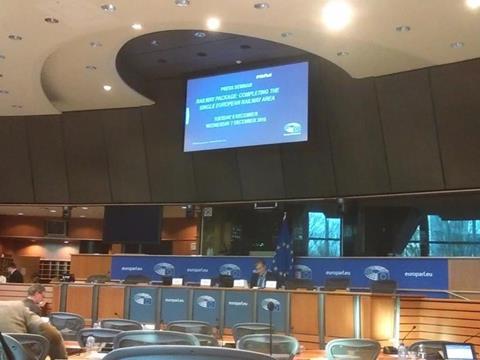 EUROPE: On December 5 the Transport & Tourism Committee of the European Parliament endorsed the consolidated wording of the market pillar of the Fourth Railway Package ahead of a debate in the full Parliament on December 12 and its expected formal adoption the following day. The technical pillar of the package was adopted in April and is now being implemented.
The market pillar proposals cover bidding for public service contracts instead of direct awards with a transition period lasting until the end of 2023, legislation to allow operators to offer new commercial services on domestic routes from December 2020, revision of governance of infrastructure designed to ensure impartiality for operators and repeal of an obsolete regulation on railway accounting.
The proposals do not impose separation of service provision and infrastructure, but rely on financial and operational independence of infrastructure management from train operations.
During a seminar at the European Parliament in Brussels on December 6-7 , it was made clear that what is now envisaged in the market pillar has been heavily diluted from the original proposals, attracting strong criticism from organisations such as the European Rail Freight Association.
While CER Executive Director Libor Lochman felt that the balance of the Fourth Railway Package was right, Julia Lamb of ERFA said that the liberalisation process was taking far too long and that rail was losing its 'green' advantages while other modes advanced. If the rail mode does not grasp the opportunities on offer, it could be 'sidelined' within 10 years, she warned.