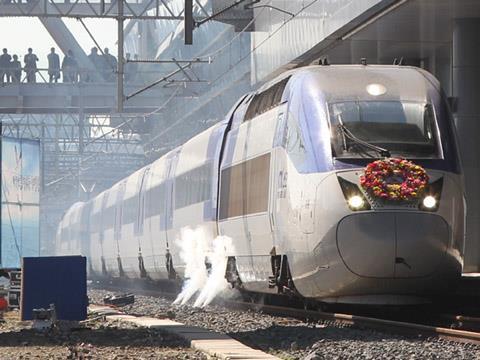 SOUTH KOREA: The Ministry of Land, Transport and Maritime Affairs has published plans for national network of high speed and upgraded lines which would put the most of the major cities within 90 min travel time of each other by 2020.
The second national railway plan published on April 3 is the result of work launched in September to develop proposals for an expanded rail network which would encourage the shift of traffic from road and air to rail. The proposed network is based on 'an X within a square', with the KTX high speed lines from Seoul to Busan and Mokpo forming the centrepiece of the X.
South Korea's total rail network will be expanded from 3 557 to 4 934 km, with the length suitable for speeds of 230 km/h or greater increasing from 369 to 2 362 km through a combination of new construction and upgrading. Around 79% of the national network would be double track and 85% electrified, and double-deck trains would be introduced to increase capacity.
Rail's share of the passenger market would increase from 16% in 2008 to 27% in 2020, while the share of the freight market would increase from 8% to 19%.
Noting that air travel between Seoul and Busan fell by more than 30% in the first four months following the opening of KTX Phase II between Daegu and Busan in November 2010, ministry officials said the rail expansion package would reduce carbon emissions by 7·7 million tonnes a year and increase annual GDP by 91tr won.
Total cost of the programme is put at 88 trillion won, of which the government would contribute 59tr won, and local government 3tr; the remainder would be raised from the private sector.