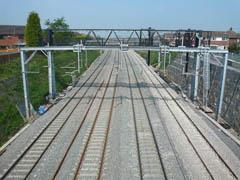 UK: Infrastructure manager Network Rail is to be restructured to create 'a number of new, powerful, devolved business units', Chief Executive David Higgins announced on February 21. The new structure is aimed at better aligning with the needs of NR's customers and passengers.
Route directors will become managing directors, 'running their own infrastructure railway business with significant annual turnover and resources'. Their responsibilities will include safety, customer service, asset management outputs and spending, operations, maintenance planning and delivery, plus 'some' renewals and enhancements.
'Network Rail has saved money and transformed the railway through central control but to make further improvements in all areas we now need to increase responsiveness at a local level', said Higgins. 'We're devolving accountability to the route level so that we can get closer to our customers and be in a better position to deliver improvements to passengers and freight users, while reducing costs.'
Consultants working on a Rail Value for Money study for the government led by Sir Roy McNulty have already suggested devolving power from the centre of NR to create stand-alone Regional Infrastructure Managers. It is felt this would allow comparative regulation and performance benchmarking, hopefully driving up efficiency.
NR will pilot the new structure on its Scotland and Wessex routes, with the changeover starting in April. Once the structure is meeting expectations, the other seven routes would follow.
The Scotland Route is an obvious choice as its shares it boundaries with one dominant train operator. Wessex ranked behind Anglia and Kent in suitability for vertical integration in a study for the McNulty review, but South West Trains franchisee Stagecoach is known to be an proponent of vertical integration, where management of train operations and infrastructure is combined.