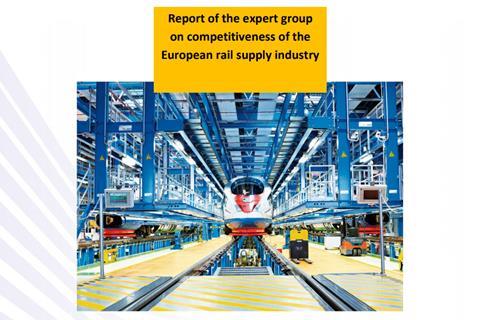 EUROPE: A report setting out policy measures which are needed to maintain the European supply sector's 'global leadership' and competitiveness has been published by an EU expert group drawn from across the rail industry.
Established a result of a European Parliament resolution in 2016, the group includes representatives of operators and infrastructure managers, 10 national authorities, 12 trade or national associations, eight train builders, two innovation and technology clusters, and 23 equipment manufacturers. 10 out of the 45 members are SMEs.
The study identified 10 policy areas grouped into three fields, and identified actions to be taken by the European Commission, member states and the rail industry.
Digitalisation, research, innovation and skills
Continued support for transforming Europe's railways, in particular through the development of ERTMS and research partnerships.
Continuation of the collaborative research model set up within Shift2Rail, and proposing a rail research programme within Horizon Europe 2021-27.
Providing an adequate regulatory framework, including standardisation, to facilitate the deployment of innovative technologies.
Implementing the EU Blueprint for Sectoral Co-operation on Skills in the rail sector.
EU internal market, standardisation, public procurement and financing
Fully implement the Fourth Railway Package, and reduce the number of national technical and operational rules.
Evaluate whether the legislative framework has reduced the cost and time for obtaining vehicle authorisations, and if not take corrective action.
Increase modularisation and standardisation based on common European operational principles.
Develop and implement a work plan to improve the convergence of European and international standards.
Promote the use of 'most economically advantageous tender' procurement principles, with objective environmental, social and life-cycle criteria to minimise subjective interpretation.
Promote the use of quality criteria in public procurement, including environmental, social and innovation aspects.
The European Commission should support member states in their understanding and evaluation of 'abnormally low' bids.
Strengthen EU programmes supporting the deployment of 'climate-neutral, energy-efficient and user-oriented' transport, especially rail and urban rail.
Access to markets and intellectual property rights
Improve the International Procurement Instrument to achieve a more 'balanced and reciprocal' economic relationship with China.
Continue opening third-country procurement markets through bilateral agreements and the World Trade Organisation multilateral Government Procurement Agreement.
Propose new WTO rules on subsidies to ensure fair competition.
Promote the protection and enforcement of IPR on third countries.
Appoint a Chief Trade Enforcement Officer to monitor and improve the compliance of EU trade agreements with third countries.
The Community of European Railway & Infrastructure Companies said it was fully committed to promoting the use of most economical advantageous tender principles among its membership. CER has worked with infrastructure managers' organisation EIM and suppliers' association UNIFE to draw up a list of criteria that contracting authorities could take into consideration when awarding contracts.
Websites
We are not responsible for the content of external sites