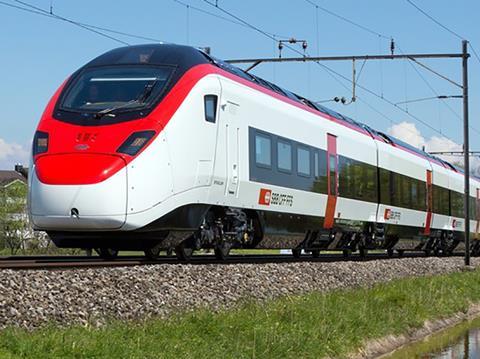 SWITZERLAND: Swiss Federal Railways is drawing up long-term proposals to run its long-distance services at 15 min intervals. Describing this as 'the next quantum leap in Swiss public transport', SBB was responding on November 9 to a government consultation document on long-term investment in the national rail network.
The government's strategic rail infrastructure programme known as STEP (Strategische Entwicklungsprogramm Bahninfrastruktur) foresees a spend of SFr11·5bn by 2035 on about 200 large and small projects to increase line and station capacity. The objective is to run more frequent passenger services and to accommodate more freight in the national regular-interval timetable.
SBB welcomed the document, which will form the basis for legislation to be placed before parliament in 2018-19. SBB had contributed to formulation of the proposals, but said that the government's document represented a combination of regional concepts rather than a nationwide plan for rail services.
SBB is already planning to operate 30 min interval services on nearly all its long-distance routes by 2035, retaining a pattern of connecting regular-interval regional and local trains. It proposes 15 min interval services initially on the Luzern – Zug – Zürich and Aarau – Zürich corridors. Other routes where 15 min services would operate include Bern - Zürich.
The government's STEP 2035 consultation paper puts forward proposals for 15 min interval services on numerous local and regional routes. Major projects would include the Brüttener tunnel to provide more capacity and faster services between Zürich and Winterthur and construction of the second Zimmerberg tunnel on the Zürich – Luzern route.
STEP 2035 includes proposals for 'express paths' for freight trains, for example between Biel and Lausanne and from Zürich to destinations in eastern Switzerland. Additional freight paths would be established between the yards at Lausanne Triage and Limmattal, between Basel, Olten and Bern and between Bern and Lausanne Triage.
The Swiss government ruled in a report published on November 1 that freight operator SBB Cargo should not be sold to the private sector, but should remain a subsidiary of the SBB group, although with more independent management. Partner companies could nevertheless take minority stakes. This SBB Cargo International business on the other hand may be a candidate for partial or full privatisation in the longer term.