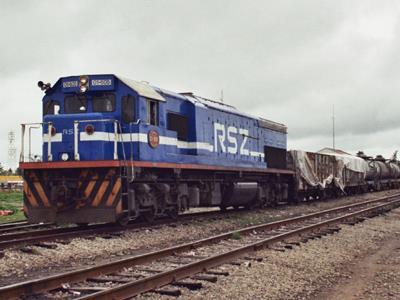 ZAMBIA: State-owned holding company Zambia Railways Ltd resumed control of the national rail network on September 11, following the government's decision to revoke the operating concession awarded to Railway Systems of Zambia Ltd in 2003.
Finance Minister Alexander Chikwanda had announced on September 10 that the government had decided on 'compulsory acquisition' of the concession rights, claiming that RSZ had 'blatantly disregarded the provisions of the agreement', and had been 'acting in a manner prejudicial to the interests of Zambians'.
RSZ had been awarded a 20-year concession to operate freight services on the ZR network connecting the Copperbelt mining region near the DR Congo border to the Zimbabwean border at Victoria Falls, along with a seven-year concession to run passenger trains. Chikwanda said a failure to invest in the maintenance and renewal of both infrastructure and rolling stock, had led to deterioration of the state-owned assets, an 'unacceptable' level of derailments and poor safety, including loss of life and property. Increased tariffs and the poor quality of service had seen a significant drop in rail use, with much traffic switching to road.
ZRL Managing Director Knox Karima told a board meeting on September 11 that the company would absorb the 900 staff employed by RSZ, and would embark on renovation work 'within the next two weeks'. Control would be transferred back from Lusaka to the former railway headquarters at Kabwe, he added.
Insisting that 'we shall not disappoint and we shall not fail', Karima told the Times of Zambia that the government's decision was 'not political but economic', as the country needed a functioning rail network to support economic development. Measures were being put in place to prevent railway assets being removed from the country, and he said arrangements would be made to return two locomotives from DR Congo and another two from Zimbabwe.
Insisting that there would be 'business as usual' during a 'smooth' transition phase, Karima pledged that service to customers would not be affected. Nevertheless, the concessionaire would have still to meet any contractual obligations that it had entered into with suppliers. Chikwanda confirmed that the government would provide the resources needed to support the continuing operation and rehabilitation of the rail network.