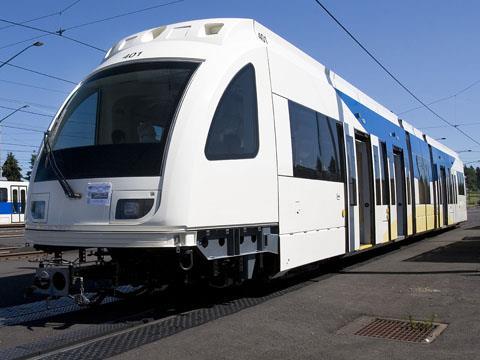 USA: September 12 marked the inauguration of a Green Line in both Portland and Dallas.
In the former, TriMet celebrated its fifth new MAX light rail route, connecting Clackamas Town Center and the Portland State University campus just south of downtown Portland. Opening day ceremonies were held at many of the new stops followed by free rides from 11.30 through to the end of service, attracting an estimated 40 000 boardings.
The 13·4 km alignment follows an all-new north-south right-of-way adjacent to Interstate 205 that connects with the existing system at Gateway Transit Center. Services then run west to another segment of new track linking Union Station with PSU along the Portland Mall, with one-way tracks along 5th and 6th Avenues, which has become the central city's primary transit corridor. Shadow services began on August 29 to familiarise staff, motorists and pedestrians with the new service.
Meanwhile, the existing Yellow Line route was modified on August 30, with the western end diverted from its former downtown alignment along Morrison and Yamhill streets to the Mall tracks, also terminating at PSU. Headways on the MAX Blue, Red and Yellow lines were increased on August 30 during early mornings and late evenings to cut operating costs and offset a US$31m budget shortfall caused by lower tax revenues during the continuing recession.
Down in Dallas, free preview rides were on offer two days ahead of revenue service along the first 4·3 km, four-station segment of the Green Line from downtown to Fair Park. Ridership figures were not immediately available but Dallas Area Rapid Transit spokesman Morgan Lyons said there were good-sized loads all day despite persistent rain. When completed in late 2010, the full US$1·8bn Green Line will be 45 km long and serve Love Field airport in northwest Dallas, Farmers Branch, Carrollton and Pleasant Grove.