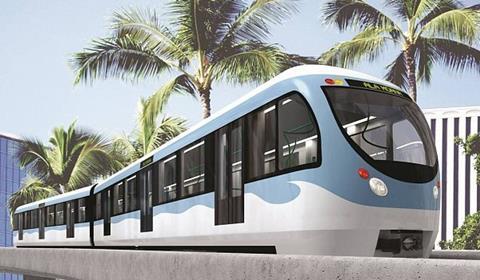 CÔTE D'IVOIRE: The government has formally approved the technical and funding proposals for construction of an elevated metro line in Abidjan, which is to be developed by a consortium of French companies.
An addendum to the project agreement approving the technical and financial offer submitted by Société des Transports Abidjanais sur Rail for the construction of Abidjan Metro Line 1 was formally signed on December 21 at a ceremony attended by President Alassane Ouattara and his French counterpart Emmanuel Macron.
Described by the promoters as 'the most ambitious mass transit project in sub-Saharan Africa', the 37 km Line 1 would run from Anyama Centre in the north of the capital to the airport in the south, serving 18 stations. As well as a viaduct across the lagoon, it will require the construction of 24 road bridges and 34 footbridges for pedestrians. The line is being designed to carry up to 500 000 passengers per day, within an agreed budget of €1·4bn.
Although the two presidents attended a start of work ceremony in November 2017, construction of the line is not now expected to begin until the end of 2020. This is still subject to the government completing land acquisition and finalising the financing arrangements in conjunction with the French government.
Civil engineering will be undertaken by consortium leader Bouygues Travaux Publics, a subsidiary of Bouygues Construction which will also be responsible for project management. Trackwork, power supplies and overhead electrification will be provided by Colas Rail, which will also supply ticketing equipment and audio and video equipment as part of the railway systems package.
Alstom will supply the fleet of 20 five-car trainsets from its Metropolis family, along with the CBTC, signalling and telecommunications and depot equipment; it will also be responsible for system integration. Operations and maintenance of the completed line will be the responsibility of Keolis.