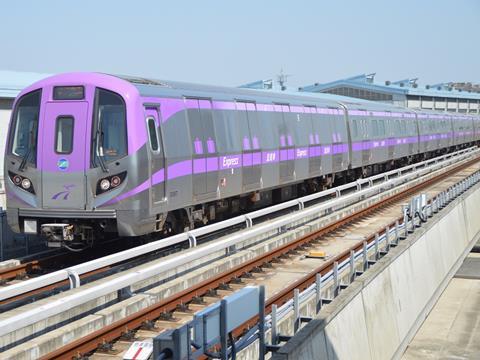 TAIWAN: Trial running on the Taoyuan International Airport Line in Taipei began on February 2, offering free rides between Taipei Main Station and Huanbei. Six stations are currently open, with more due to open on February 15, before revenue service begins on the entire line on March 2.
Revenue services will run between 06.00 and 23.00 on the 53 km line linking Taipei Main Station with Zhongli via Taoyuan International Airport. Initially serving 24 stations, with two more to open at a later stage, the alignment includes 13 km underground.
Four underground stations serve the airport, and baggage check-in will be available at three stations in Taipei from the start of full service. In addition to the regular stopping service, with a 70 min end-to-end journey time, there would be express services running non-stop between Taipei Main Station and the airport, taking 35 min.
Kawasaki Heavy Industries has supplied a fleet of 38 stainless steel bodied trainsets that draw power at 750 V DC from a third rail and have a maximum speed of 100 km/h. They are stabled at depots at Chingpu and Luzhu.
Stopping services are operated with a fleet of 17 four-car trainsets with longitudinal seating. The 11 trainsets used for express services include an additional car for checked baggage, and have transverse seating in the other cars.