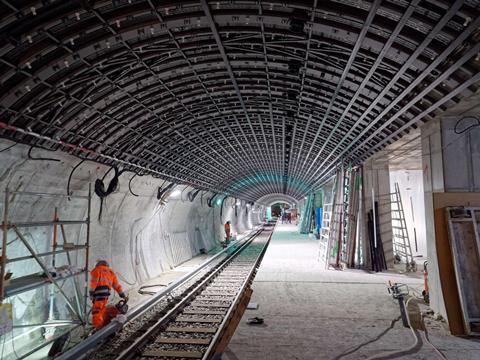 GERMANY: Three extensions of the Berlin U-Bahn network have been deemed 'structurally and technically' feasible, according to a study commissioned by the city government.
Initial results presented to the Berlin Senate in March confirmed the feasibility of building extensions to lines U6, U7 and U8, which have been backed by the capital's chamber of commerce ahead of other metro and tram projects being pursued by politicians in the ruling 'red-red-green' coalition.
Work is nearing completion on the U5 extension to Berlin Hbf; the 2·2 km 'missing link' between Alexanderplatz and Brandenburger Tor is expected to open for revenue service by the end of this year, although the cost has risen from the initial budget of €433m to an estimated €525m. BVG Projekt GmbH confirmed on March 31 that fitting out work was continuing at the three intermediate stations at Rotes Rathaus, Museumsinsel and Unter den Linden.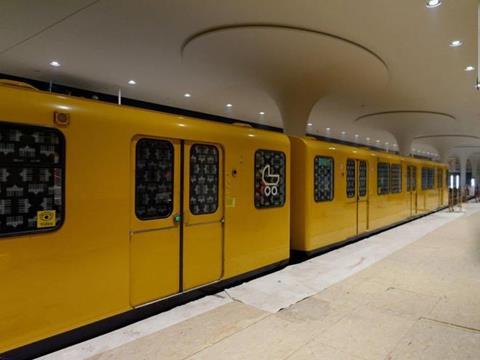 The feasibility study is intended to inform the priorities for further development following completion of U5, starting with a proposed southern extension of U7 from Rudow to the new Berlin-Brandenberg airport at Schönefeld, which is provisionally priced at €306m. Planning is already underway for a northern extension of U8 from Wittenau to Märkisches Viertel and potentially Senftenberger Ring, at a cost of €112m to €386m. The third project would see the construction of a branch off U6 to serve proposed residential and commercial developments on the Tegel airport site; this is priced at up to €607m depending on the route selected.
Other projects under consideration include a short western extension of U7 from Spandau to Heerstraße Nord, for which BVG commissioned a feasibility study at the end of 2019. Extension of Line U3 from Krumme Lanke to Mexikoplatz is priced at €40m, with proponents pointing out that 150 m of tunnel for this route has already been built. Local passenger association IGEB has welcomed the proposal 'unreservedly', suggesting it could be completed within a decade. The U3 extension is also backed by the SPD faction in the Senate, which is arguing for a 600 m extension of U2 to Pankow-Kirche and a southern extension of U9 to serve new housing developments at Lankwitz. Meanwhile, the CDU reportedly favours a southern extension of U6 from Alt-Mariendorf to Lichtenrade.
However, coalition partner Die Linke has argued against further metro extensions in the short term, pointing out that BVG has a maintenance backlog estimated at more than €2bn. Backed by the Green party, Die Linke says the immediate focus must be the renovation and technical modernisation of existing U-Bahn lines, and potentially some expansion of the tram network.