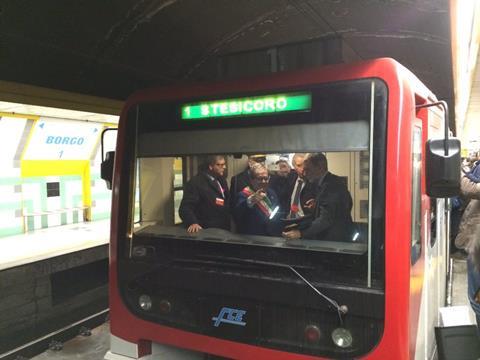 ITALY: A 1·9 km extension of the Catania metro opened at 12.00 on December 20, the first since the inauguration of the line in 1999. The new section runs underground from Galatea to Stesicoro, with an intermediate station at Giovanni XIII. The surface section from Galatea to the previous southern terminus at Porto has temporarily closed.
Work to extend the 1 435 mm gauge line began in 2000, but was suspended on several occasions for a variety of reasons. In 2013 a new contract was awarded to Tecnis, following financial problems at original contractor Sigenco.
Services between Stesicoro and the line's northern terminus at Borgo run at 10 to 15 min frequencies, with an end-to-end journey time of 9 min, using the existing fleet of eight two-car electric multiple-units that Firema supplied in 2001.
A four-station extension at the other end is currently under construction to Nesima. This is due to open next year, and would bring the metro line to 9 km.
Construction began last year on a further two-station extension from Nesima to Monte Po, as the next phase in the planned route to Misterbianco.