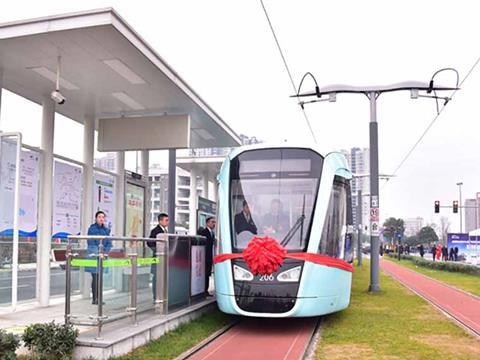 CHINA: The initial section of the Chengdu tram network opened on December 26.
The 13·6 km Line T2 between Chenguang and Hexin Road is the first phase of a planned 39·3 km Y-shaped network in the northwest of the city that would provide interchange with metro Line 2. Services run every 10 min between 07.00 and 20.45, with an end-to-end journey time of 40 min.
CRRC Changchun has supplied a fleet of bidirectional five-section trams based on the Alstom Citadis 302 design; 40 trams are envisaged for the entire network. The vehicles are 32·6 m long and have capacity for 380 passengers including 64 seated.
The trams have a maximum speed of 70 km/h and are equipped with onboard energy storage to allow off-line operation across road junctions.
December 26 also saw the opening of extensions at both ends of Chengdu metro Line 3. A northeastern extension from Chengdu Junqu General Hospital to Chengdu Medical College added 12·7 km, of which 5·5 km is on elevated alignment, and serves nine stations. A 17·4 km southwestern extension opened from Taipingyuan to Shuangliu West with 11 stations and a depot near Shuangliu West.