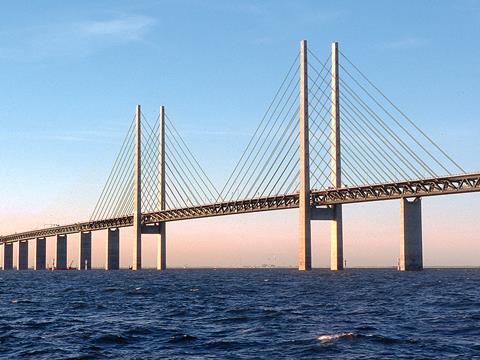 EUROPE: København Mayor Frank Jensen and Malmö Mayor Katrin Stjernfeldt Jammeh announced the formation of a partnership to promote the cross-border Øresundsmetro project at the Fehmarnbelt Days 2018 conference in Malmö on May 28.
The Øresundsmetro Executive partnership will be chaired by former Danish Labour Minister Jørn Neergaard Larsen. It is described as 'a Danish-Swedish forum for dialogue between representatives from industry, academia and the metro project partners'.
The proposed metro line between København H and Malmö C would run in a 22·1 km tunnel under the Øresund strait separating Denmark and Sweden. It would have a design capacity of 36 trains/h per direction, with headways of 2 min in the peaks and 5 min off-peak. A maximum speed of 120 km/h would provide an end-to-end journey time of 20 min, and there would be five stations.
Construction could begin in 2028 for opening in 2035. The project is estimated to cost €4bn, which includes a 50% risk premium. This would be mainly financed through fare revenue, with possible support from the EU, Denmark and Sweden. Both countries have the option to apply toll revenue from the Øresund Bridge from 2035, once the cost of building the fixed link has been paid off.
Interchange would be provided with the Danish capital's metro once this has been extended to København H. Studies are currently underway for two proposed routes, with a decision expected to be undertaken by the end of the year.
The Øresundsmetro is expected to increase the population living within 1 h of the two cities' main railway stations from 1·3 million to 2·3 million, and the number of jobs within 1 h of the two stations from 800 000 to 1·3 million.
A further aim of the project is to relieve the Øresund Bridge. The number of rail passengers and freight trains using this is expected to double compared with 2011 levels once the Fehmarn Belt road and rail tunnel between Rødbyhavn in Denmark and Puttgarden in Germany opens in 2028.
Further demand for travel between København and Malmö is expected to come from the planned expansion of København Airport from 29 million passengers per year in 2017 to 40 million in 2030, as well as the development of high speed rail services in Sweden in the 2040s.