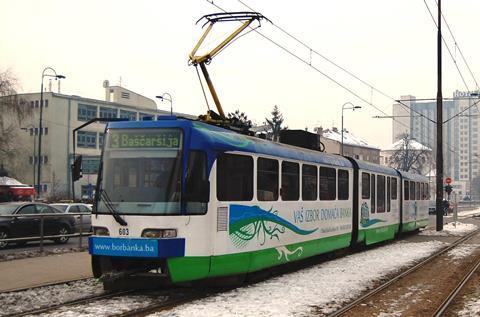 BOSNIA: The European Bank for Reconstruction & Development signed €35m in loans to improve public transport in Sarajevo on February 5.
A €20m loan will be used to modernise the 19·5 km tramway, which EBRD said has had no major improvements in decades. This will support plans to acquire 'new, cleaner' trams.
A €15m loan will allow the operator to buy up to 25 trolleybuses which are expected to consume 50% less electricity than the current fleet.
The loans are part of EBRD's Green Cities programme, which aims to reduce the use of cars as the preferred transport option in congested cities.
'These two new EBRD Green City projects will provide residents with efficient and green public transport', said EBRD's Managing Director for Central & Southeastern Europe Charlotte Ruhe. 'Not only will the investments improve air quality by reducing vehicle emissions, but modernisation will also have an indirect impact by supporting a shift away from polluting diesel cars.'