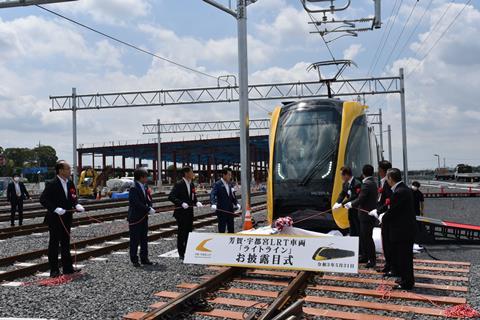 JAPAN: The first of 17 three-section low-floor light rail vehicles being built to operate the Haga – Utsunomiya LRT was unveiled at the line's depot on May 31, having been delivered a few days earlier.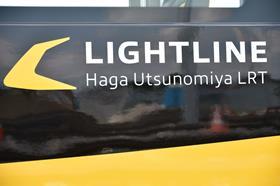 As part of the ceremony, project promoter Utsunomiya Light Rail Co Ltd announced that the line is to be branded as Lightline.
Authorised by the Ministry of Land, Infrastructure & Transport in 2016, the 14·6 km LRT has been under construction since 2018. Intended to reduce local road congestion, it will run eastwards from JR East's Utsunomiya station in the capital of Tochigi prefecture to serve the Haga/Takanezawa Industrial Park which houses a Honda research and development facility, via Shakushin University and the Canon factory.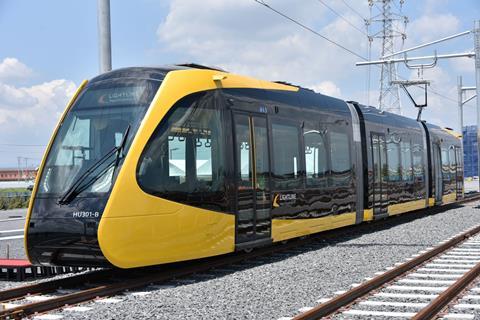 The 1 067 mm gauge double-track line will serve 19 stops, of which two are being built with loops where semi-fast expresses can overtake all-stations services. Trams are expected to run every 10 min off-peak and every 6 min at peak times, offering an end-to-end journey time of 44 min for the stopping services or 38 min for the expresses.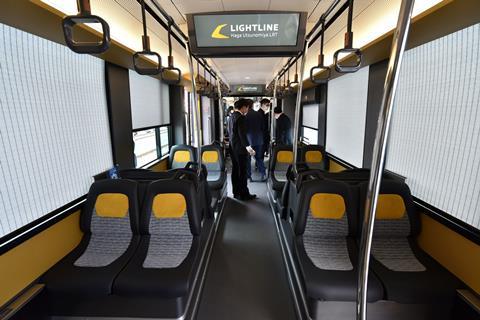 The 2 650 mm wide LRVs are 30 m long, with capacity for up to 155 passengers. They will take power at 750 V DC and operate at up to 70 km/h on segregated sections of the route. The rolling stock is being manufactured by Niigata Transys as an evolution of the F1000 Series low-floor cars previously supplied to the Fukui Railway in Echizen.
Utsunomiya Light Rail Co is majority owned by the two local authorities, along with a local business venture, Kanto Bus and Tobu Railway as other partners. Total cost of the project is put at ¥45·8bn, of which Utsunomiya is contributing 40·8%, Haga 10·8%, and the Tochigi Light Rail joint venture 22·8%.
When the project was authorised the line had been expected to open by December 2019, although by the time construction started this had slipped to 2022. Completion is now anticipated in March 2023.