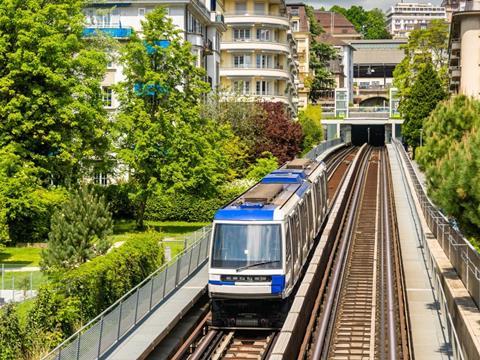 SWITZERLAND: Plans to increase capacity on the Line m2 automated metro and to build the 4 km Line m3 took a step forward on June 13 when the government of Vaud canton sought approval from the cantonal parliament for credits worth SFr153∙7m to cover the next stage of work and for detailed alignment studies.
The canton said that it would shortly be seeking approval from the Federal Office for Transport for construction of a new double-track alignment for Line m2 between Grancy, Lausanne-Gare and Flon and for construction of the Line m3 station at Flon. Capacity of Line m2 is currently constrained by a single-track section between Grancy and Lausanne-Gare.
Operator Transports Lausannois has experienced rapid growth in ridership in the last few years, and the new m2 alignment will double capacity between Lausanne-Gare and Flon, where Line m3 will diverge to serve stations at Chauderon, Beaulieu, Casernes, Plaines-du-Loup and Blécherette to the north of the city. Line m2 will operate at intervals of less than 2 min and will be augmented by departures every 3 min on Line m3, which will use the same technology.
The metro expansion scheme will dovetail with a SFr1∙3bn project to rebuild the main railway station as part of the Léman 2030 programme to increase capacity on the Genève – Lausanne corridor. Three new pedestrian subways will be built to connect the main line platforms with the metro. The development plan for Lines m2 and m3 will guarantee that Lausanne station will function smoothly, said Nuria Gorrite, President of the Vaud government and Head of the Infrastructure Department.
Reconstruction of Line m2 between Grancy and Flon is costed at SFr228m and construction of Line m3 will absorb SFr582m. The Line m2 works are due to be completed in 2025, with Line m3 fully open a year later.
Contracts for civil engineering, rolling stock and signalling for Lines m2 and m3 were awarded in May 2017.