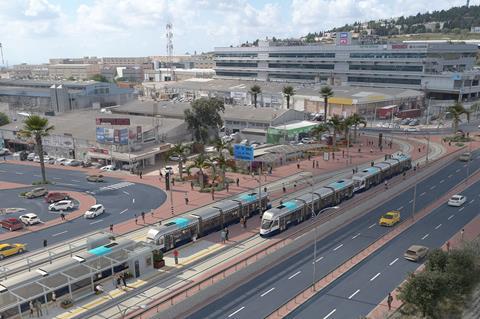 ISRAEL: Project promoter Trans Israel-Advanced Transportation Solutions has selected local contractors to undertake civil works on the 41 km interurban tram-train line between Haifa and Nazareth.
Y Lehrer & Co, Rolider, Abraham Isaac and Brothers Anton Earthworks have been awarded the Section D contract covering the 7 km urban section through Nazareth, from Har Yona to Taufic Ziad.
The 34 km interurban sections A, B, and C from Har Yona to Merkazit Hamifratz in Haifa will be built by KSMG Contractors, AMZ Shemesh, Olizki Infrastructures, Rolider and Y Lehrer & Co.
Construction is expected to start towards the end of 2020, including site clearance, utilities relocation and the construction of supporting walls, earthworks and pavements. Work will initially concentrate on clearing the planned depot site at Kiryat-Ata, a satellite town north-east of Haifa. Two park-and-ride interchanges are to be built in the Nof Hagalil area of Upper Nazareth, one serving the industrial zone at Har Yona and other the urban market and government offices.
Attending the contract award announcement on October 27, Transport Minister Miri Regev emphasised that the line would provide 'direct and convenient' links between Nazareth, Haifa, and other parts of central and southern Israel, helping to increase the use of public transport.
Trans Israel CEO Dan Schoenbach said 'we keep promoting the project rapidly, and are nearing the production stage according to our initial schedules. In parallel we are promoting the concession tender, and we'll be able to announce the participating groups at the beginning of 2021'.