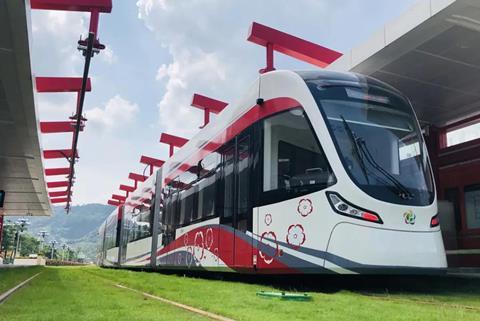 CHINA: An initial 7·9 km section of the Huangpu tramway in the eastern part of the city of Guangzhou was opened on July 1.
The line connects Xinfeng Lu with Changping station on metro Line 21, and has eight intermediate stops. An extension to Xiangxue on Line 6 is scheduled to open by the end of the year, taking the route length to 14·3 km.
Construction of the tram line began in March 2018 and test running started in September 2019. Services are initially running every 9 min.
CRRC has supplied a fleet of four-section 70 km/h trams which are 37 m long and 2 650 mm wide with a capacity of 280 passengers, including 50 seated. The catenary-free trams are powered using supercapacitors and lithium titanate batteries which are recharged at stops.
Construction of a second line began in December with opening planned for 2022.