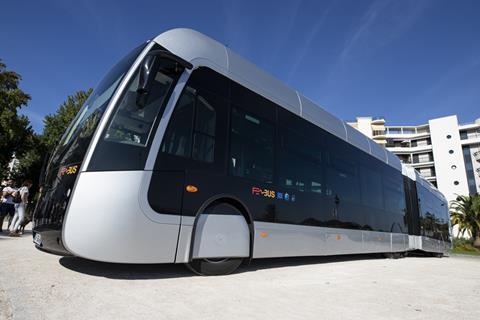 FRANCE: The Fébus bus rapid transit route in Pau was inaugurated on December 17, using a fleet of hydrogen fuel cell buses.
Services on the 14-stop route are operated by Keolis using a fleet of 18 m long buses supplied by Van Hool. Connecting the city's railway station with François Mitterand Hospital in the north, the 6 km route runs mainly in segregated lanes with buses having priority at junctions. The end-to-end journey time is 17 min.
Keolis is providing technical assistance for the operation of the eight buses. These are powered by hydrogen fuel cells supplied by Ballard Power Systems, and refuelled overnight at the depot. A refuelling station was commissioned on September 19, and modifications have been made to the depot.
The articulated buses have capacity for 145 passengers including 32 seated. They are equipped with wi-fi, ticket vending machines and CCTV.