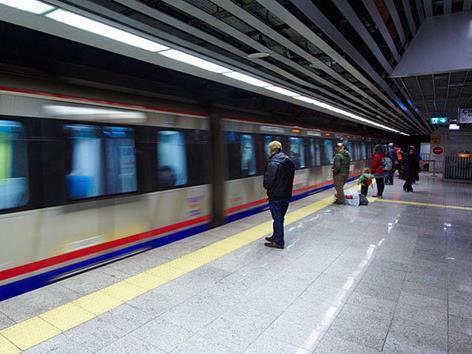 TURKEY: Financial packages have been agreed to support the ongoing construction of the Ümraniye – Ataşehir – Göztepe metro line M12 on the Asian side of Istanbul. The 13 km line will run underground from 60 Yıl Parkı to Kazık Karabekir, with 11 stations.
The European Bank for Reconstruction & Development has arranged a €97·5m syndicated loan for the €410m project, including a €20m tranche provided by Société Générale under an A/B structure. Separately, the Black Sea Trade & Development Bank is providing a €77·5m loan.
EBRD began discussing financial support for the project last year during what the bank said was 'the height of the financial turbulence' in Turkey. The 'swift' conclusion of negotiations would enable immediate implementation, EBRD said.
The agreement 'combines in an exemplary way what the EBRD stands for and can offer Turkey', said Arvid Tuerkner, EBRD Managing Director for Turkey, on September 26. 'We started this engagement when it was difficult to attract commercial lenders, demonstrating that we are a reliable partner in challenging times. The project is remarkable as it addresses some of the key challenges facing Istanbul, such as improving urban transport and reducing environmental pollution, bringing tangible improvements to people's lives.'
The Black Sea Trade & Development Bank was established by Albania, Armenia, Azerbaijan, Bulgaria, Georgia, Greece, Moldova, Romania, Russia, Turkey and Ukraine.
'We are happy to contribute to the improvement of the transport infrastructure and living standards of the people in Istanbul, the largest city in our Black Sea region', said Vice-President Hasan Demirhan. 'Municipal infrastructure development is BSTDB's new strategic priority. We hope to increase our engagement in this sector in close co-operation with EBRD, our long-standing partner'.