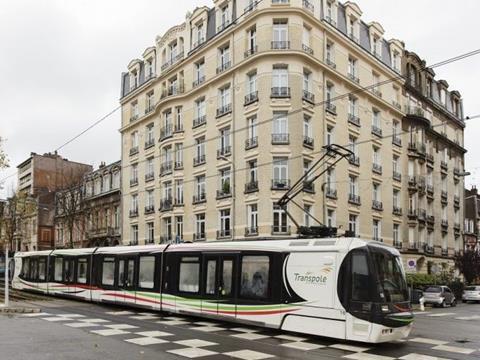 FRANCE: The construction of a 10 km light rail line between Lille and Lesquin Airport via Ronchin is expected to go ahead during the period of the city's next public transport operating concession, according to the President of the Métropole Européenne de Lille, Damien Castelain.
Under development for the past 12 months, the proposed airport tram link would augment or replace the existing Liane 1 express bus service. Presenting his perspectives for the year ahead at the end of January, Castelain said that a preferred route had now been agreed, although the site of the city centre terminus has yet to be confirmed. The line is projected to cost around €250m to build, but is not expected to open before 2022.
According to Castelain, this is less than the amount that Lille is spending on the modernisation and upgrading of metro Line 1, where the VAL technology is more than 30 years old.
MEL is currently tendering the next seven-year concession to operate Lille's public transport network from January 1 2018. This covers the two automated metro lines, the existing Y-shaped metre-gauge tram route to Roubaix and Tourcoing, and a wide network of bus services plus the city's cycle hire scheme. Prequalification bids were invited for the €2bn contract in April 2016, with final tenders called in mid-December.
The current concession is held by Keolis, which has been responsible for operating the driverless metro network since it opened in 1983.