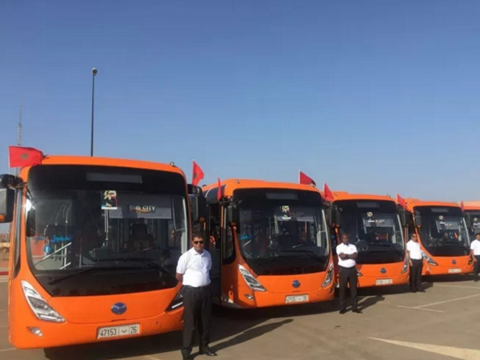 MOROCCO: Revenue services on the first trolleybus route in Marrakech began on September 29, two days after an official opening ceremony.
The 11 km route between Massira and Gueliz forms the first phase of a larger network that is planned to be commissioned by the end of 2019. Buses run along dedicated rights-of-way and have priority at road junctions. The power supply comes from a solar power plant built as part of the project.
National Express subsidiary Alsa operates services between 06.00 and 23.00 every 6 min in the peaks and every 12 min off-peak.
Dongfeng Yangtse has supplied 15 Veyron G92 trolleybuses, of which 10 are required for regular services. The 12 m long partly low-floor vehicles are equipped with batteries for off-wire operation. The 60m dirham cost was financed by the Ministry of Interior.
The fleet is due to expand by the end of 2019, when ridership is forecast at 45 000 passengers a day. Dongfeng Yangtse is to supply 20 more trolleybuses, to an 18 m long design.