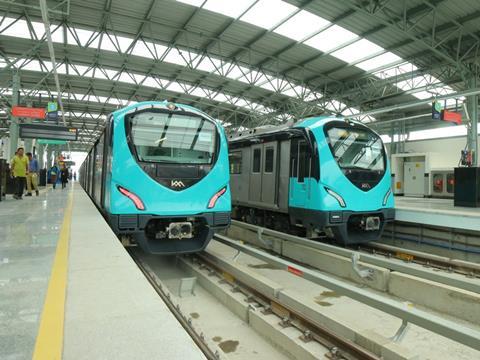 INDIA: The government has established a committee to develop standards for locally-manufactured components to be used in the country's metro networks. Announced by Prime Minister Narendra Modi during the opening of the Delhi Metro Green Line extension on June 25, the establishment of the new committee follows a government decision last year to encourage greater standardisation across the metro sector.
The committee is to be led by retired railway engineer Dr E Sreedharan, who headed Delhi Metro Rail Corp from 1998 to 2012, and is expected to make its initial recommendations within three months.
The government recognises that transport infrastructure, and particularly metros, will play a growing role in India's rapid urbanisation and industrialisation. India has 490 km of metro lines operating in 10 cities, with more than 600 km under construction and work expected to start on a further 350 km in the next few years, along with the 380 route-km Regional Rapid Transport System to serve the National Capital Region.
Many of these projects have benefited from state funding through both equity and subordinated debt, as well as sovereign guarantees for multilateral and bilateral loans. In the next few years, the government expects to provide an average of Rs250bn a year, in addition to the funding provided by state governments, private partners and international bodies.
India has already taken initial steps towards greater homogeneity in the metro sector, with the Railway Board approving standards for rolling stock and signalling last year, together with related specifications for the civil structures. New standards for electrical systems have been agreed and are due to be adopted shortly. These standards have already been adopted for some new metro systems now in the procurement phase.
Detailed specifications for a common automatic fare collection 'eco-system' have been drawn up through a research project supported by Delhi Metro, and BHEL has been commissioned to manufacture a prototype gate. The first locally-manufactured gates based on the National Common Mobility Card are expected to be launched in October. Work is also underway to establish common standards for CBTC, drawing on experience from the Kochi metro.
However, the government feels that there are many other areas where indigenous standards would be beneficial, including the layout of stations, platforms, signage, fire protection and disaster management systems, waste management, and the use of solar panels at stations. These areas are to be addressed by the committee, with the aim of 'incentivising manufacturers to plan for long-term investments in the country and set up manufacturing units', which would bring down the cost of future metro construction.
As well as Dr Sreedharan, the standardisation committee includes former DMRC Rolling Stock Director H S Anand, RDSO Executive Director (Carriage) Sameer Lohani, Kochi Metro Rail Operations Director D K Sinha (signalling), Dehradun Metro Managing Director Jitendra Tyagi (civil engineering), Indian Railway Board Executive Director, Track Modernisation, Vipul Kumar (track and structures), Ahmedabad Metro Director, Systems, Prashanth Rao (fare collection), DMRC Electrical Director Anoop Gupta (traction, power supply and ventilation), and Mukund Kumar Sinha, Joint Secretary at the Ministry of Housing & Urban Affairs.