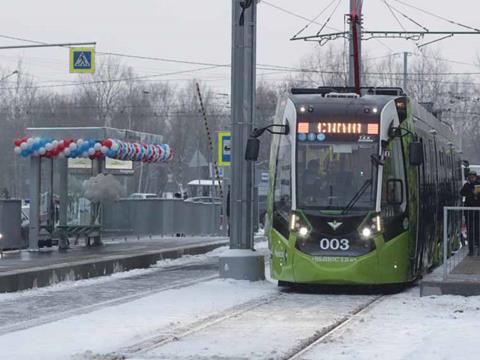 RUSSIA: The next phase of the Chizhik fast tram route in St Petersburg was inaugurated by Interim Governor Aleksander Beglov on December 11. Regular services began four days later.
Fast tram services now run on an upgraded 1·6 km of Route 64 north from Khasanskaya Ulitsa to Irinovsky Prospekt, where a temporary terminus has been built. Together with the initial section between Ladozhskaya and Khasanskaya Ulitsa, which opened on March 7, this forms a T-shaped route. Services operate at 9 min intervals on both branches, giving 4½ min frequencies on the Ladozhskaya – Khasanskaya Ulitsa section.
At the other end of the route, a 200 m extension has opened from a temporary terminus at Ladozhskaya to the metro and railway station entrances.
Commercial speed on both routes exceeds 24 km/h, which is the threshold for a tram route to count as 'fast' in Russia, and this is expected to increase once priority signalling comes on line.
Three more extensions are due to open by September 2019. These will include 4·5 km of upgraded route and 2 km of new line, as well as a maintenance depot to replace the temporary facility at Khasanskaya Ulitsa.
Chizhik is the city's first tram route operated by a private company. The Transportnaya Koncessionnaya Kompanya consortium of Lider Group and LSR Group is developing the project under a 30-year build-operate-transfer PPP concession signed in 2016.