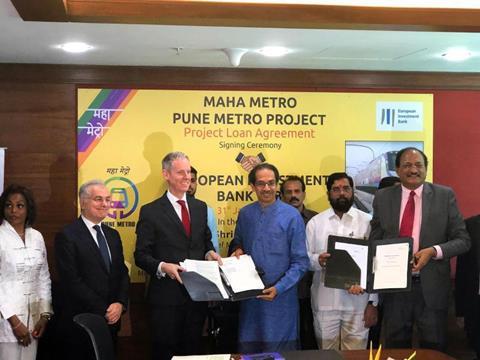 INDIA: Maharashtra Metro Corp has secured financing for its Pune Metro line from AFD France and the European Investment Bank.
The international investors will co-finance the debt of the project, estimated at Rs58·3bn. The total value of the project is estimated at Rs113·2bn.
The loans money will be used to acquire 102 metro cars and finish the construction of the two-line 32·5 km network, as well as its 30 stations. The first two lines are expected to open in 2021. An elevated third line totalling 22·3 km is planned to enter operation in 2023.
According to Maharashtra Metro Corp, Pune Metro's works are 37% complete.
Andrew McDowell, Vice-President of the European Investment Bank, said: 'The metro rail would improve the living conditions of three million people in Pune.
'This is a good example of how international co-operation and local know-how can make tangible improvement for people and businesses alike, and at the same time contribute to climate action and protection of the environment,' he said when the financing agreement was signed on January 31.